Boring Jig With Cam-Lever Hold-Down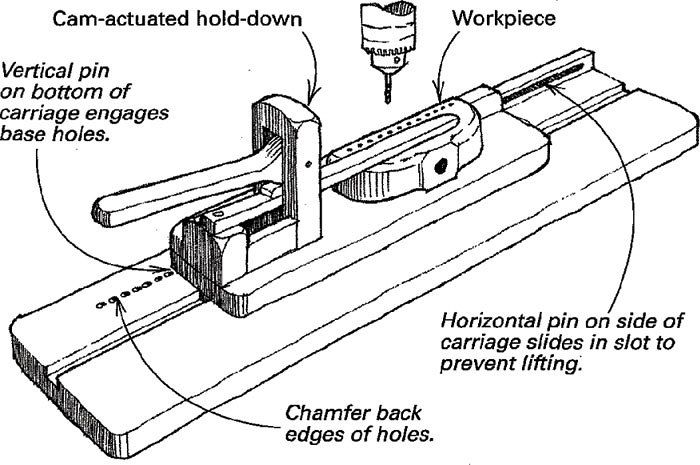 When I began making production runs requiring 12 evenly spaced holes in 50 blocks, I designed this jig, which incorporates several features, including a cam-activated hold-down and a sliding pin to prevent the fixture from lifting up. The jig consists of two main parts: the carriage and the bed. The carriage carries the block to be drilled and the cam-activated hold-down. Embedded in the bottom of the carriage is a 1/8-in. pin that engages carefully drilled holes in the bed. Each hole is slightly filed on the back edge to provide a ramp that the pin can ride down into the hole.
Because the drill press tends to lift the carriage when the bit is backed out of the hole, I added a pin to the back edge of the carriage and routed a slot in the side of the bed for the pin. This keeps the carriage snug to the bed while allowing the other end of the jig to be lifted slightly to advance to the next hole.
Daniel R. Maxon, Essex Junction, Vt.
Fine Woodworking Magazine, June 1994 No. 106