Ridgid - 6-in. Jointer JP0610
Ridgid's 6-in. jointer features ogranizer trays for loose parts and a magnifying glass on the depth-of-cut gauge.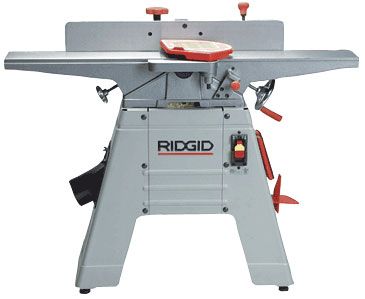 A 6-in. jointer is a good starter size for a workshop, so I chose 11 models to examine, all of which happened to be made in either Taiwan or the People's Republic of China. The only significant differences among them were in the fence designs and the mechanisms by which you raise and lower the infeed and outfeed tables.
With a jointer, you want infeed and outfeed tables that are flat and coplanar to each other, meaning that the tables should run parallel from one end of the machine to the other.  To function properly, the surface of the outfeed table must be flush with the top arc of the knife cut and perfectly parallel to the full width of the knife cut as well as to the surface of the infeed table.
Among these machines, you can choose from four fence designs, my favorite of which is the rack-and-pinion, because adjustments are quick and easy to make, and you can move the fence in and out with one hand.
The Emerson Electric Co., maker of Ridgid woodworking machines, consistently goes one step further toward making the whole package more user-friendly. Here are some examples: ogranized parts trays, an adjustable dust chute that slides out of the way, a magnifying glass on the depth-of-cut gauge, and soft, rubberized coatings on all handles and levers. The tapered base with a wide footprint makes this machine more stable, but the partially open base also means that it's a little noisier than machines with enclosed motors.