Jet - 6-in. Jointer JJ-6CSX
This 6-in. jointer from Jet features a heavy-duty one-piece steel stand and cast-iron tables.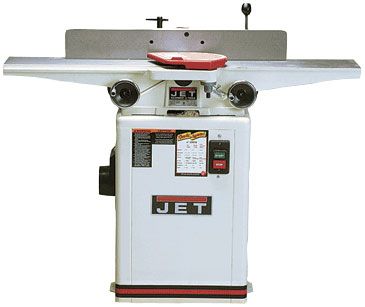 A 6-in. jointer is a good starter size for a workshop, so I chose 11 models to examine, all of which happened to be made in either Taiwan or the People's Republic of China. The only significant differences among them were in the fence designs and the mechanisms by which you raise and lower the infeed and outfeed tables.
With a jointer, you want infeed and outfeed tables that are flat and coplanar to each other, meaning that the tables should run parallel from one end of the machine to the other.  To function properly, the surface of the outfeed table must be flush with the top arc of the knife cut and perfectly parallel to the full width of the knife cut as well as to the surface of the infeed table.
Among these machines, you can choose from four fence designs, my favorite of which is the rack-and-pinion, because adjustments are quick and easy to make, and you can move the fence in and out with one hand.
The Jet machine came with the best instruction manual of the bunch—well written, organized, and photographed, and printed on coated paper for clearer images. The adjustment wheels are mounted on the front of the machine rather than on the sides, under the tables. The outfeed table on this machine had a 0.007-in. twist from one end to the other, more than on most of the other machines. The Jet was the only brand that came with a small can of touch-up paint.