Tool Test: 6-Inch Jointers
The overall quality is good, and the choices are plentiful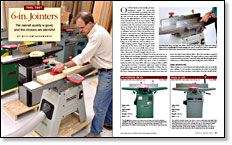 Synopsis: If you are serious about building furniture or cabinets, you need lumber that has at least one straight edge and one flat face. That's what jointers do to boards, and here, William Duckworth evaluates 11 machines for ease of use, accuracy, fence design, and prices. Find out which get his stamp of approval and why.
Of all the kinds of electrically powered equipment made for processing wood, the jointer is perhaps the most misunderstood and underutilized machine. Saws rip and crosscut wood, and planers bring it down to the right thickness, but I've met plenty of woodworkers who don't own a jointer. "Why would I need one, and what does it do?" they sometimes ask. The answers to those questions are even simpler than this most basic of machines. If you're serious about building furniture or cabinets—and even if the end product is full of curves—you need to start with lumber that has at least one straight edge and one flat face. That's what jointers do. They also square up and clean up lumber edges that are rough or fuzzy from being cut on the tablesaw, and cut rabbets, too.
When buying a jointer, bigger is better in terms of the size of the knives and the length of the table beds. You can successfully joint a board that is about twice as long as the bed of the machine. The scope of lumber lengths that you can process with a 4-in. machine is limited because the beds are so short. Eight-inch (and larger) machines are great, but the price skyrockets with any machine bigger than a 6-in. version. In general, a 6-in. machine is a good starter size. Most of the 11 machines I looked at sell for less than $500, with one costing as little as $300.
Among the machines I examined, eight were made in Taiwan; three others were made in the People's Republic of China. The only significant differences between these machines can be found in the fence designs and the mechanisms by which you raise and lower the infeed and outfeed tables. All of the machines required some assembly and cleanup. The metal surfaces come coated with a rust-preventive goop that comes off easily with liberal applications of kerosene or lubricating and penetrating oil, such as WD-40.
From Fine Woodworking #160
For the full article, download the PDF below:
View PDF