A Short History of Chests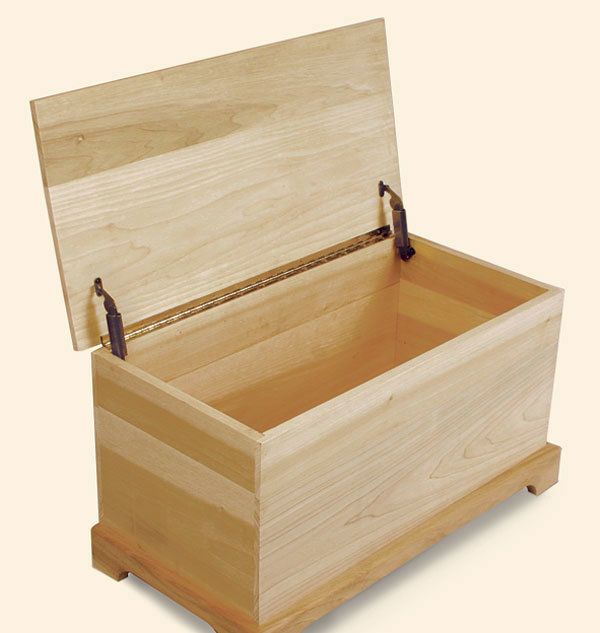 A chest may be defined as a storage receptacle, larger than a box, with access through the top, usually via a hinged lid. It may also be thought of as the ancestor to practically all furniture designed for storage, including buffets, bureaux, cabinets, chests-of-drawers, credenzas, dressers, highboys, lowboys, and sideboards.
As European society developed after the Dark Ages, chests were needed as much for security as simple storage, and early examples are frequently iron-bound. Many early chests are made in the solid — hewn from a single log. That this is a poor way to construct a piece of furniture is demonstrated by the fact that even though such solid chests may also be fitted with heavy iron bands and straps, much checking and cracking still occur.
Chests used primarily for the collection, storage, and transport of valuables were commonly known as coffers, a term still used to denote stored wealth. Coffers were commonly leatherbound, studded, and furnished with rounded lids, in distinction to chests, which were typically larger and made with flat lids. The chest, in fact, was for a long time often the only piece of furniture in many houses, used for all kinds of household storage, as well as the primary place to sit and the place to sleep. Coffers intended for traveling eventually became known as trunks, a term still used today.
Boarded chests were the next development, but wood movement was still often poorly accommodated since many chests were made with the grain of the end boards running perpendicular to the grain of the front and back boards. This method allowed the ends to be continued downwards below the floor of the chest and so raise the chest, no doubt not only to keep the bottom off a damp or abrasive stone floor but also to provide a more comfortable height when the chest was used as seating. This, however, resulted in much cracking and splitting of the pinned or nailed front and back.
Although vertical ends continued to be used for smaller articles such as stools, the logical improvement was to construct the chest so that the grain of all sides ran horizontally, and any cross-grain movement occurred equally all round without impairing the structural integrity. Should extra height or protection from the ground be necessary, a plinth or feet could be provided. This is today the most common way to construct a chest, the description of this type being a six-board chest — consisting of a front, a back, two ends, a lid, and a bottom.
But an even better solution was reached with the introduction of frame-and paneling. Initially the form consisted of extremely wide stiles in front that housed a single horizontal board, the ends of the chest being tenoned into the front stiles and also frequently secured with iron bands. This solved the problem of dimensional instability and also allowed for feet or legs to be formed simply by continuing the corner stiles downwards but required prodigious boards.
By the 15th century, frame-and-paneling had become much lighter with far narrower stiles and rails and multiple panels. Both boarded chests and frame-and-panel chest became over time increasingly sophisticated in terms of joinery and decoration. Simple nailed butt joints were replaced with dovetailed corners; lids originally hinged simply by iron staples or wooden pins driven through cleats fixed to the lid into the sides of the chest were replaced by hinges, and plain or lightly incised framed-and-paneled chests became masterpieces of shaped carving, culminating in the huge, totally carved cassones of the Italian Renaissance.
Simple chests today are also known by their function, such as blanket chests and hope chests, and more complicated forms described under chests-of-drawers.
Graham Blackburn is a furniture maker, author, and illustrator, and publisher of Blackburn Books (www.blackburnbooks.com) in Bearsville, N.Y.