A Short History of Cabinets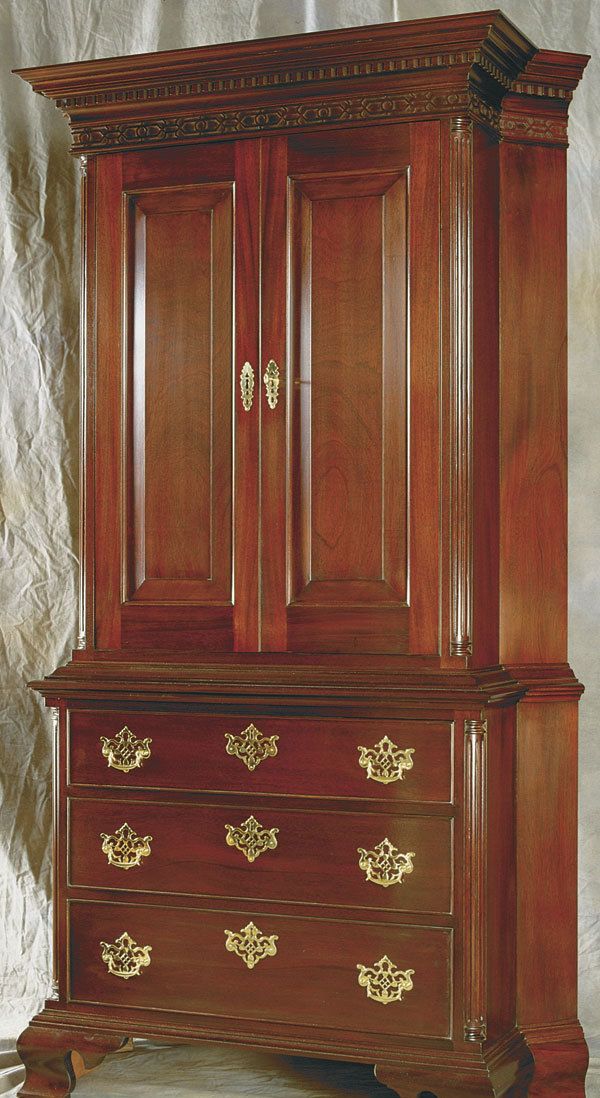 The term "cabinet" is now generally understood a medium to large size piece of furniture dedicated to storage, which is accessed by doors and may consist of many small drawers or open shelving.
The earliest cabinets, however, were specifically designed for the storage of papers and other valuables. They were also used as places for writing, which led eventually to a distinct type typified by secretaries and bureaux. Cabinets are thought to have been the result of the realization that since chests were useful as seating, providing access via the front rather than the top was more convenient, and that then raising the chest higher made frontal access easier than having to bend down. Consequently, the cabinet, as a form of front-opening chest placed on top of another chest or on a table, and ultimately on its own legs, was born.
While early cabinets are invariably mounted on a stand, later examples (which still use legs or feet) tend to include an inferior storage space, which while accessed from the front may use drawers as well as doors, and sometimes drawers hidden behind doors.
Always an important piece of furniture by virtue of the preciousness of its contents, and consequently an article upon which the best craftsmanship was often lavished in the form of precious woods, inlay, marquetry, veneering, and carving, the cabinet ultimately grew in size often to become the most dominant piece of furniture in a room. As a result its maker — the cabinetmaker — became the most highly regarded woodworker, especially in distinction to the joiner, who employed the more straightforward solid-wood construction of frame-and paneling.
It is somewhat ironic that the term 'cabinetmaker' now generally refers to a maker of relatively short-lived built-in kitchen cabinets. The only point of similarity being that the fundamental construction rests on a common technique, namely the use of opposing 'plies' or veneers to produce a large continuous surface rather than the older method of frame-and-paneling.
Almost anything may be kept in a cabinet, and so define it as a specific variety, some of the more common being a china cabinet (typically provided with glazed doors), a display cabinet, a curio cabinet, a tool cabinet, and a jewelry cabinet.
Other varieties refer to self-explanatory construction peculiarities, such as a wall cabinet, a hanging cabinet, or a corner cabinet. The term "breakfront" implies a cabinet (or other pieces of furniture such as bookcases) whose front is made in two planes, most typically so that the middle section is made proud of the adjacent end sections.
Graham Blackburn is a furniture maker, author, and illustrator, and publisher of Blackburn Books (www.blackburnbooks.com) in Bearsville, N.Y.