Tenoning Jigs
Tablesaw jigs ensure accurate and repeatable joinery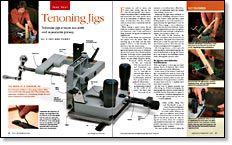 Synopsis: Many woodworkers find they can produce the most consistent tenons with the use of a tenoning jig on a tablesaw. Such a jig holds the workpiece square to the table from side to side and from front to back, and can be adjusted for angled work. A good jig makes the process of cutting tenons fast and accurate. This review looked at 10 commercial tenoning jigs: the Delta 34-183 and 34-184, Garrett Wade 18P04.06, General 50-050, Jet/Powermatic 708295, Rockler 29840, Shop Fox H5782, Woodcraft 14755, Woodtek 116-738, and Yorkcraft 7868.
Examine any well-cut tenon, and you'll find cheeks that are flat, smooth, and parallel—three characteristics that help produce a strong mortiseand-tenon joint. And while tenons can be cut in an assortment of different ways, many woodworkers find they produce well-cut tenons most consistently with the use of a jig.
When cutting a typical tenon, the jig holds the workpiece square to…
Start your 14-day FREE trial to continue reading this story.