Anatomy of a Bed
Different styles share basic construction details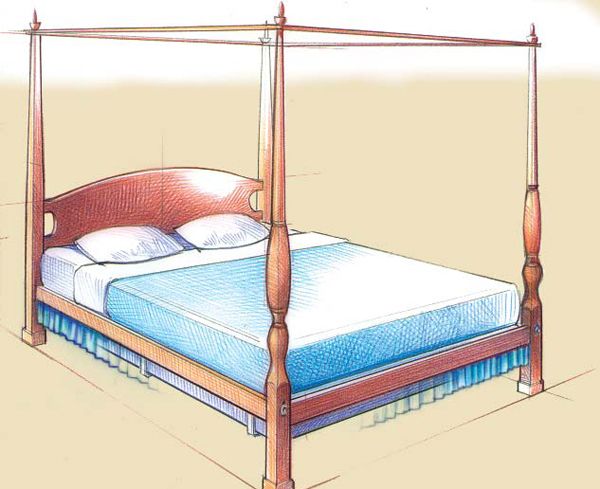 Synopsis: Sound construction is a critical part of any bed design, and most beds share a similar post-and-rail construction. This step-by-step guide to bed construction illustrates that by choosing the best systems for joining the rails to the posts and the posts to the headboard, it's possible to build any size or style of bed — from twin to king, from Shaker to four-poster to Arts and Crafts.
Bed designs may vary widely, but sound construction is a critical part of any design's success. Fortunately, there aren't too many structural issues to deal with. First, you have to figure out the best way to support the mattress and box spring. Also, because most beds need to be transportable, they must come apart quickly and easily, and when put back together be rigid and silent. That means you must choose the best systems for joining the rails to the posts, and the posts to the headboard. I've built countless beds during my woodworking career. Using the techniques I've learned, you can make any style of bed.
Beds come in a variety of standard sizes, but these standards are not absolutes. If your mattress is larger than standard, you'll have to adjust the frame size; but if it is smaller, you should size the frame for a standard mattress so when the time comes to replace it, a new mattress will fit. In general, plan to leave 1 ⁄4 in. to 1 ⁄2 in. of space on the sides to allow room for the bedding. I sometimes leave a little more room at the end, with a footboard that rises above the mattress, so there is some space to hang your toes off the end of the bed or to accommodate the cord of an electric blanket.
Construct the headboard
The headboard (and footboard, if there is one) assembly usually is built as a unit, with mortise-and-tenon joints connecting the rail to the two posts. The mortise-and-tenon provides the maximum strength to this connection, but the details of the joint vary based on the bed's design. On a wide plank headboard, some allowance must be made for wood movement. With two separate tenons, glue only the upper one, or use a wide, short tenon floating in a long, shallow mortise, anchored in the center with a full-depth tenon that is glued.
On a four-poster bed, the headboard plank simply floats (without glue) in deep, slightly oversize mortises. The headboard then can be removed when the bed needs to be disassembled.
A headboard that has slats, spindles, or a frame-and-panel design will have a crest rail tenoned into the top of the posts. Be sure to offset the mortise-and-tenon joint toward the bottom of the crest rail so you leave as much wood as possible at the end of the post, above the joint.
From Fine Woodworking #175
For the full article, download the PDF below:
View PDF