Shop Flooring Solutions
Quick, effective coverings for a cold concrete slab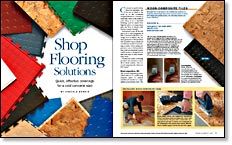 Editor's note: Fine Woodworking updated this article in 2008. Read more
Synopsis: Concrete may be the ideal shop floor for machines, but it's not easy on the body or the occasional dropped tool. This survey of floor coverings for the woodshop focuses on products that are easy to install and provide a warmer, drier floor than concrete. Products surveyed include wood composite tiles, interlocking PVC tiles, and rolled-out PVC flooring. Which is best? It may depend on your budget.
Concrete is a perfect shop floor for machines. But it's not so kind to the body or to the occasional dropped hand tool. Concrete is especially nasty in the winter if your shop is in a detached building. And no matter how high the indoor-air temperature gets, the floor is always cold, even in warmer months.
Determined to get off the slab and to do it with a minimum of fuss, I surveyed what floor coverings were available. My primary goal was to find products that would be easy to install and would keep my feet from freezing in winter. Of secondary importance was to find products that acted as a moisture barrier, could protect a dropped tool, and were easy to keep moderately clean.
I found five types of flooring products that seemed to meet all of those criteria. One is a wood composite; the others are PVC based.
Wood composite vs. PVC
The wood-composite product, called DRIcore, is a subflooring material made of random waferboard bonded to a highdensity polyethylene base. This tongue-and-groove product was created as a base for carpet, vinyl tile, or engineered hardwood flooring, but it may be used as is. The color of DRIcore is a natural-wood tone, and the surface can be painted. A mallet and a jigsaw are all the tools required for installation.
Most of the PVC products are available in the form of interlocking tiles (Century, Lock-tile, and Resilia) and come in a variety of colors. All of the tiles can be installed with a rubber mallet and trimmed with a utility knife.
PVC flooring also comes in the form of large sheets (Better Life Technology) that unroll like a carpet and can be trimmed with a utility knife. Adjoining sheets may be laid side by side or attached to the floor at the seam with carpet tape. PVC rolls are available in numerous colors.
Costs for both composite and PVC flooring products range from about $1.25 per square foot to more than $4 per square foot.
From Fine Woodworking #174
For the full article, download the PDF below:
View PDF