Tool Test: Bandsaw Blades
We review nineteen 1/2-in. blades to find the fastest and smoothest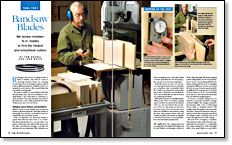 Synopsis: When it comes to choosing bandsaw blades for resawing, woodworkers have no shortage of options. We tested a number of resaw blades, limiting the field to 1/2-in. blades that fit a 14-in. saw. There are three demands we checked them against: cutting fast, flat, and smooth. Find out how these 19 blades performed, and compare their cost to their effectiveness.
From Fine Woodworking #169
Resawing is the process of cutting a board to make it thinner. And when it comes to choosing bandsaw blades for resawing, woodworkers have no shortage of options. Almost a dozen different brands are available, and it's not unusual for each brand to offer several blades that can handle resawing tasks.
We tested a number of resaw blades in the Fine Woodworking shop. The test was limited to 1⁄2-in.- wide blades, a size well suited to resawing on a 14-in. bandsaw. The same bandsaw was used for all of the tests: a 14-in. Delta (model 28-241) with a 1-1⁄2-hp motor and a 6-in. riser block.
When it comes to resaw blades, most woodworkers have only three demands. The blade should cut reasonably fast, and the cut should be both reasonably flat and reasonably smooth.
Some woodworkers are interested mainly in speed. They allow for extra stock, so a cut that's less than perfectly flat isn't a concern: After a few passes on the jointer, the surface is flat and smooth. For other woodworkers, though, a cut that's flat and smooth is most important. That's often the case when resawing stock to create thin sheets of veneer. And when the wood is pricey, a flat, smooth cut is even more important.
Blade life can be an issue, too. But because the typical home-shop woodworker uses a bandsaw only occasionally, blade life is likely to be measured in years rather than in hours. Therefore, our tests didn't include one for blade life, nor did we look at any carbide-tipped blades.
With all that in mind, we established three different tests. First, we looked at cutting speed, and then we measured the flatness of the cut. Last, we looked at the smoothness of the cut. For the tests, each blade was installed in the bandsaw using the same setup and procedure, with one notable exception: The tension we applied to the blade was based on recommendations from the blade manufacturers.
The cutting-speed test was pretty basic: We timed how long it took for each blade to cut through a section of 9-1⁄2-in.-wide soft maple. Short times equated to fast-cutting blades. It took some extra effort to ensure a level playing field for the blades, starting with the stock. To minimize any physical differences in the wood, all of the test cuts came from the same board. After milling a 10-ft.-long board to 1-3⁄4 in. thick by 9-1⁄2 in. wide, we cut 10, 1-ft.-long blocks from each one.
For the full article, download the PDF below.
View PDF