Hitachi - 18-Gauge Brad Nailer NT50AE
This 18-gauge brad nailer from Hitachi accepts up to 100 nails measuring 3/4 in. to 2 in. long.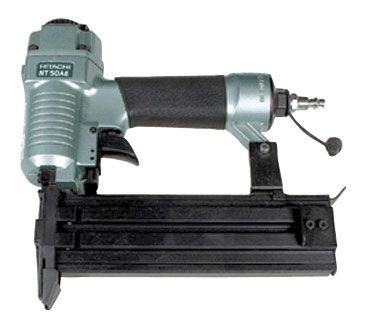 A good 18-ga. brad nailer should be able to drive a variety of nail sizes and to place the nail where you want it to go. It should be easy to load and indicate clearly when the nail supply is low. The safety guard should be positioned behind the nose to give a better view of nail placement, and a driver-guide cover that's easy to remove makes clearing jammed nails a breeze. The depth-of-set adjusters should be easy to read and use, and the exhaust port should be adjustable to direct air away from the user. A one-handed carriage-release lever is convenient.  The heaviest of the bunch, the Hitachi demonstrated good basic performance.