Ryobi - Benchtop Planer No. AP1300
This discontinued 13-in. planer featured eight depth stop settings and a dust hood. It was replaced with the AP1301 Surface Planer.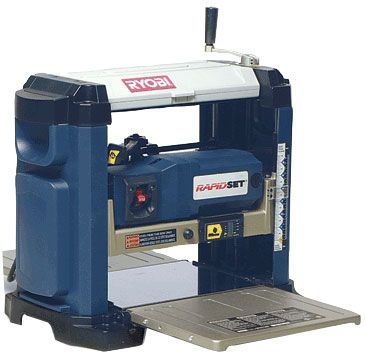 Ryobi, manufacturer of the first portable thickness planer, has returned to the market with the AP1300.
The Ryobi AP1300 produced virtually no snipe. The board was almost parallel when measured from edge to edge, and the surface quality was excellent. Plus, it sells at an appealing price.
But this planer was noisy. And it had another drawback: When I attempted to measure the time required to change the blades, I discovered the machine screws that fasten the knives to the cutterhead were overtightened. Most of them came out after considerable effort. But three refused to budge, so the heads had to be ground off. Once removed, the screws were replaced and the blade-changing time was measured. At 14 minutes flat, it required less time than most others.
All things considered, the AP1300 looks like it is a good planer at a good price.