Geetech - Benchtop Planer CT-345
The Geetech 12-1/2-in. planer features reversible knives that can be resharpened.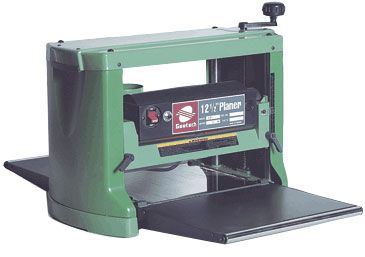 Today's thickness planers vary in price from less than $300 to nearly $500. In an effort to learn whether the price differences reflect the quality and features of the machines, I put nine of them through a hands-on test. To begin with, it's important that the infeed and outfeed tables be flush with the bed, and I found that all of these machines made it easy to adjust the tables up and down. In addition, I tested how accurately and smoothly the planers cut (all produced amazingly smooth cuts). I also measured the noise level of the machines, checked to see how easy it was to change knives, and gauged the effectiveness of the dust collection.
The inexpensive Geetech had the worst score on the carriage parallelism test, and the cutterhead lock was cumbersome.  On the other hand, changing knives was fast and easy, and it tied for the smallest amount of snipe.