Combination Squares
What sets apart a $75 tool from one that costs $6?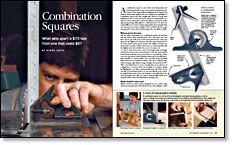 Synopsis: A combination square is one of the most frequently used tools in Steve Latta's arsenal. Although it's a basic tool, there are many differences in the manufacturing details, sizes, and styles that you can buy. And you can spend as much as $200 for all the extras. Latta looks them over and, after describing their features and how they're constructed, advises how to get what you really want.
A combination square is one of the most frequently used tools in my arsenal. I carry a 4-in. version in my apron pocket and a 12-in. square with an additional 24-in. blade in my toolbox. As the name implies, this tool combines the capabilities of a machinist's square and a flat, straight rule. Throw in a rarely used bubble level and a scratch awl, and you have a tool that tackles a variety of common shop tasks, such as machinery setup, layout, marking and measuring. Although it is a relatively basic tool, there are myriad differences in the manufacturing details, sizes and styles that you can buy. You can get a simple tool for as little as $6.50, or you can spend $75. If you opt for all the extras, the cost climbs to $200.
What you get for the money
The two main components of a combination square are the head and the blade—what manufacturers call a two-piece set—and that's all you get with most of the lower-priced tools. Once you jump into the higher price brackets, all of the major brands also offer center heads and protractor heads. The addition of these two items makes up what's called a four-piece set, which typically sells for slightly more than double the cost of a two-piece set.
A center head locates the center of turning blanks and large dowels, but a lot of other tools work just as well. My center head is buried away until that once-a-year lecture to my students on layout tools. A protractor head is handy at times and is classified as either reversible or nonreversible. On a reversible head, the blade slides between two machined surfaces and can be adjusted anywhere along an edge within a range of angles that span about 110°. With a reversible head, it's easy to transfer lines across the face of a single piece of stock or from one workpiece to another simply by flipping the tool. With a nonreversible head, the blade sits on one side of a machined surface, so you can't flip the tool to transfer angled layout lines. Most sets include a reversible head, but some manufacturers offer sets with a nonreversible head—you should confirm what's included before ordering one.
From Fine Woodworking #159
For the full article, download the PDF below:
View PDF