Compound Angles Without Math
Simple set-up block dials in tablesaw settings for accurate butt and miter joints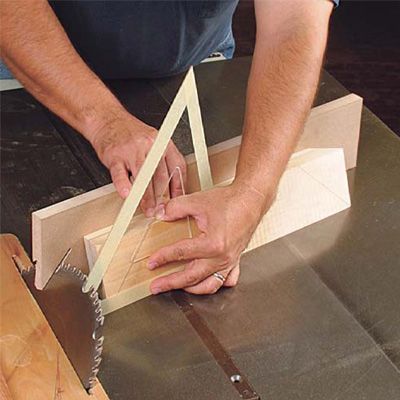 Synopsis: Compound angles can add visual interest to many projects where standard square joints can't. And cutting compound-angle joinery doesn't have to be intimidating. In this article, Steve Brown shares his simple technique for cutting compound-angle butt joints and miters on the tablesaw. No math is required; all you need is a bevel gauge and the desired angle of the slope. Brown walks readers through setup, cutting, and assembly, and gets you ready to expand on the technique to cut compound dovetails.
Compound angles add visual interest to a piece. Instead of building a cradle that looks like a stiff box, you can angle the sides to give it a more subtle, inviting appearance. Angled sides are used in many types of woodwork, from simple serving trays and window boxes to the high-style bombé chest, with its flat, sloped case and drawers that are carved into a bulge on the outside.
A compound angle occurs at the intersection of two sloped sides, and there are a number of joints that can be used to connect them. The most basic and fundamental of these is the butt joint. Miter joints and dovetails are more complex options. At North Bennet Street School, where I teach, we've found an easy tablesaw method that handles all three variations required, with some handwork for dovetails.
To form a compound angle on the tablesaw, both the blade and the miter gauge must be angled for crosscutting. The problem is that you cannot get those angle settings from the standard views on drawings. When any piece features surfaces that are not perpendicular to the line of sight, there is distortion in their size and shape. Take the front side of a simple box. If each side slopes outward 10°, the front and side views will show a slightly shortened front side, and the crosscut angle at each end will be distorted. The top view is also deceiving—you are not looking straight down on the top edges of the box, so you can't read the true bevel angle of the butt joints.
There are a few traditional approaches to calculating these two angle settings. The first involves drafting a corrected view that shows the true dimensions and angles of each side of the box. The second is a mathematical solution using trigonometry. However, while working through these traditional solutions with our students, we became dissatisfied with their complexity and potential for inaccuracy. There are chances for error when drawing or making calculations and also when you turn those numbers into actual tablesaw settings. This led us to rethink the problem and eventually figure out a simpler method for determining and cutting compound angles on the tablesaw.
From Fine Woodworking #158
For the full article, download the PDF below:
View PDF