Choosing and Using Brushes
The right brush and a good technique make finishing a pleasure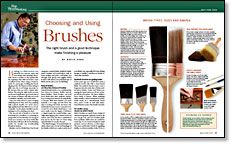 Synopsis: While offering a lesson of finishing a tabletop, professional finisher David Sorg shares his views on using brushes to apply a flawless finish. He also offers maintenance tips that will keep your brushes as soft and pliable as the day you brought them home. Among his rules: Don't buy anything with a plastic handle, and buy the best you can afford. For more sensible, useful information, check out this guide on how to use brushes best, be they foam, natural, or synthetic.
Brushing on a finish involves considerably less expense, space and even danger than spraying. The results can be as perfect as any sprayed finish, requiring only a little more time. I earn an added bonus when using a brush instead of a spray gun. Holding the brush, dipping it into the finish and then letting it glide onto the wood brings my project to life and provides me with a unique satisfaction. Choosing the right brush can save you hours in application speed and ease of use. Proper technique will help you avoid or minimize mistakes and brush marks.
I have two rules when it comes to buying a finishing brush. First, don't buy anything with a plastic handle. I've never seen a high-quality brush that didn't have a wooden handle. Use the plastic-handled ones for staining wood or painting your shed.
The second rule of thumb is to buy the best brush you can afford. To put things in perspective, for less than the cost of a good router you can buy a set of top-of-the-line brushes that will meet all of your finishing needs. No wonder my woodworking friends are jealous.
Brushes can be divided into four broad categories: natural bristle, synthetic bristle, artist's brushes and nonbrushes, such as foam wedges and pads. I will guide you through each group and suggest which brushes will match your preferred type of finish and the piece you are finishing.
Natural bristles are the prima donnas of brushes
Natural-bristle brushes are considered the best choice for lacquer, shellac and oilbased finishes. These brushes can hold more finish than their synthetic alternatives, an important issue for flowing shellac or lacquer. With these finishes you must maintain a wet edge, and the fewer the trips to recharge the brush, the better. Natural-bristle brushes seem to transmit a better feel for even finish distribution. I can more easily sense the degree of slickness or drag beneath the natural bristles, especially when tipping off to achieve a smooth surface. But I'd be the first to admit that it may just be the fact that I've been using natural bristles for nearly 20 years.
The disadvantages of natural bristles include a faster rate of wear and breakage of the bristles (which are a pain to pick out of your finish coat, especially if it's fast-drying lacquer or shellac), and they are harder to clean than synthetics.
Synthetic brushes are getting better
A few years ago you would have used a synthetic brush only with a water-based finish. But synthetic brushes have come a long way since the early days of blunt-ended nylon bristles. Tynex and Chinex are among the brand names you'll see on better full-sized brushes. The latest addition from Purdy is Syntox. When applying alkyd varnish, a Syntox brush leaves as few brush marks as a natural-bristle brush does, and it works as well with waterbased finishes as any other brush I've tried.
From Fine Woodworking #156
For the full article, download the PDF below:
View PDF