Tool review: Venom Steel nitrile gloves
Stronger finishing gloves that are still easy to get on.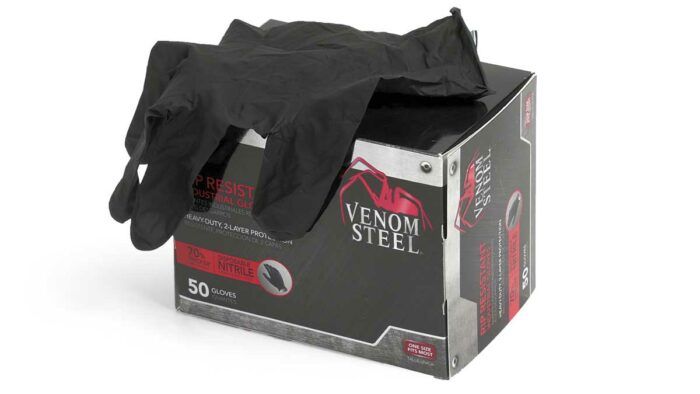 I use nitrile gloves almost daily in my shop, typically taking them on and off many times a day, particularly if I'm working with stains, dyes, or other finishing products. My current gloves are good quality quasi-medical gloves that are resistant to chemicals, but they're hard to put on and off and are frequently destroyed trying to get one on a damp hand. I keep a bottle of talcum powder around for that purpose, but that's a messy hassle. 
I've had a much better experience with Venom Steel gloves. These nitrile gloves have two layers, a tough outer layer and a slick inner one, that make it easy to put them on or take them off without destroying the glove or my patience. They even stood up to student use. I took several pairs to a class and they held up amazingly well. We were building a large torsion box, and two of the students wore the gloves all afternoon with only one rip in one of the gloves.
The gloves also feel good—so good that I'm wearing them as I type this review! They seem to do well at keeping the chemicals at bay and are tough enough to survive rigorous use in the shop. Venom Steel sells them as "one size fits most," which means they'll be a bit big on small hands. 
—R.J.
Photos: Roland Johnson