10-in. Combination Tablesaw Blades
Our high-tech test of 14 new blades revealed the smoothest cutters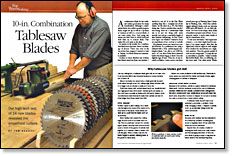 Synopsis: There's no shortage of tablesaw blade choices, so it's hard to know which is best. Fine Woodworking's Tom Begnal checked out an assortment of 10-in. combination blades to see if any stood out in smoothness of cut. He ripped and crosscut a 3/4-in maple board with each blade and performed tests to evaluate the quality of each cut. See how the blades compare, and find advice for preventing premature wear and keeping blades sharper longer.
A combination blade for the tablesaw makes good sense for many woodworkers. Although a combination blade, also called a general-purpose blade, might not rip as well as a rip blade or crosscut as well as a crosscut blade, it can come pretty close. And using one means you won't have to switch back and forth from rip to crosscut blade. That makes life a lot easier in the shop.
As anyone in the market for a combination blade soon discovers, there's no shortage of choices. That's true even in the top-of-the-line category I wanted to look at. Indeed, 14 of these blades are commonly available.
Curious to learn whether any of these blue bloods stood out from one another, I decided to test all 14 in the Fine Woodworking shop (for a complete list of the blades, see the chart on p. 37). But before doing that, I had to consider what exactly I was testing. After all, a combination blade has to do just two things well: make smooth cuts and go a reasonable length of time between sharpenings. So first I needed to figure out whether I wanted to focus on smoothness of cut, on wear or on both.
My ultimate choice was based on a couple of factors. In a preliminary test, using a tablesaw with a 10-in. carbide-tipped combination blade, I was able to cut 2,000 linear ft. of -in.-thick Baltic-birch plywood before the blade began to show even the slightest sign of wear. Then too, in my research on blades, I came across a test done several years ago at Pittsburg State University in Pittsburg, Kan., where four carbidetipped tablesaw blades each cut between 4,000 and 6,000 linear ft. of -in.-thick plywood. For most home shops, those kinds of numbers represent years of wear. So as a practical matter, it made sense simply to test for smoothness of cut.
To test each new blade, I first ripped and crosscut a -in.-thick maple board to produce a 2-in.-square sample. After that, the ripped and crosscut edges on each sample were checked for smoothness on a hightech machine. Then the general quality of each cut was categorized. To keep the test as controlled as possible, I didn't include thin-kerfed blades. Also, no stiffening collars were used.
From Fine Woodworking #155
For the full article, download the PDF below:
View PDF