Veritas - Smoothing Plane No. 4-1/2
The Veritas No. 4-1/2 smoothing plane features an adjusting mechanism based on the traditional Norris design but with some enhancements.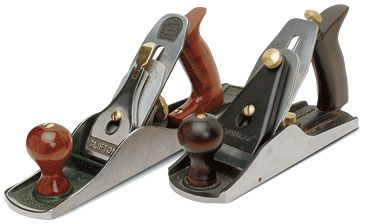 As an ardent plane collector and user, I'd have bet there was nothing new you could show me in a bench plane. That was until Veritas unveiled its new No. 4-1/2 smoothing plane, based on the venerable Norris adjusting mechanism.
With the Norris system, the lever provides two adjustments. A knob on the end of the lever adjusts the blade height. And the lever itself provides lateral adjustment. Veritas enhanced the mechanism by putting grub screws at both sides of the throat, so the blade can be perfectly centered in the mouth opening.
The body is made from a ductile-iron casting, which is superior to the gray iron castings used in most other planes. Also, Veritas has reinforced the wood handle by adding a cast-iron rib and extending it from the top of the frog to the top of the handle, with a steel pin in the handle.
The main innovation of the plane, however, is the frog. It extends to the bottom of the sole. And because the frog and the body of the plane are ground as a pair, the end of the frog is absolutely flush with the sole. Another neat thing about the frog is that it can be adjusted front to back without removing the iron or lever cap.
The plane also has a thick blade made of A2 tool steel, which holds an edge well and is less likely to chatter. I didn't find any burrs or sharp edges on the blade or cap, giving the plane a look and feel of one that was previously owned. I like that. And the blade came sharp, right out of the box.
After making the proper adjustments, I took a few passes with the plane on a workpiece and was rewarded with beautiful shavings and a perfect surface.