Fixed-Base 2-hp Routers
A midsized machine may provide all the power and versatility you need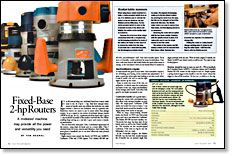 Synopsis: Fine Woodworking's Tom Begnal compares 2- to 2-1/4-hp routers on three main points: ergonomics, by hand and in a table; for noise, runout, and vibration; and to see how well they plow through wood. He evaluated eight routers, some with variable speed and some with a D-handle. Half had a soft-start feature. Side information discusses the pluses and minuses of D-handled routers.
For all-around shop use, midsized fixed-base routers make sense to me. At 2 hp to hp, they have enough testosterone to handle most cuts without the bulk that can make bigger versions a chore to run freehand. And as a general rule, fixed-base routers are easier to use in router tables than plunge routers. So as a sequel to my review of midsized plunge routers (FWW #149, pp. 46-53), I gathered all of the fixed-base 2-hp to -hp machines currently on the market. And with the Fine Woodworking shop serving as a test lab, I gave each router a handson examination.
The test had three main parts. First, I considered ergonomics of the routers, using them by hand and in a router table. Then I checked them for noise, runout and vibration. And finally, they were given a handheld run to see how effectively they plowed through wood.
Eight routers were tested: the Bosch 1617EVS and 1618EVS; Craftsman 17506 and 27500; Jepson 7112; Makita RF1100 and RD1101; and Milwaukee 5682. Four have variable speed. Three have a D-handle, a style preferred by some woodworkers. Four have a soft-start feature that briefly limits the speed of the router at startup, so the tool doesn't twist in your hands when it's turned on.
User-friendliness is a big plus
A router should feel good in your mitts. And it shouldn't require a lot of fiddling and fussing of the controls and adjustments. So I spent a good part of my quiet time looking to see how much effort it took to install a bit, set it to just the right depth and fire up the router.
Keep in mind that some of the tests are subjective, in which cases the conclusions are based on the size, shape and flexibility of my average-sized hands. And what feels good to me might not appeal to you.
From Fine Woodworking #150
For the full article, download the PDF below:
View PDF