Clico Tooling Ltd. - Clifton Jack Plane No. 5
The Clifton No. 5 jack plane is based on the classic Stanley Bedrock design with some variations, including a two-piece cap iron.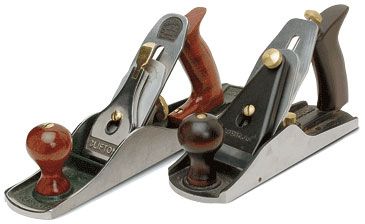 Clico Tooling Ltd., a Sheffield, England, manufacturer, is offering a line of planes based on the classic Stanley Bedrock planes, first made in 1898.
I found plenty to like about this plane. Both the frog and frog bed are machined to exacting standards, and they work flawlessly. The sole and cheeks check out flat and square. And the handle and knob, made of bubinga, feel great in my hands. The blade is a fine piece of steel, with a nicely ground edge.
One of the best features of any Bedrock-style plane is that the mouth opening can be set without first removing the lever cap and iron. Just loosen two screws at the back of the frog bed, then move the bed either fore or aft via the captive head screw in the middle. The blade moves with the frog, thus adjusting the mouth opening.
Clifton has one clever feature that wasn't found on Bedrock planes. The Clifton cap iron has two pieces, with the shortest piece closest to the front of the plane. The two pieces interlock, so when the lever cap is removed, the short piece simply lifts off the blade, while the cap-iron screw keeps the long piece secured to the blade. That way, the blade can be sharpened without having to remove the cap iron. And once the blade is sharpened, this cap iron also makes it easy to reassemble the parts.