Black & Decker - Midsize Plunge Router RP400
Black & Decker's low-cost plunge router features a 2-hp variable-speed motor.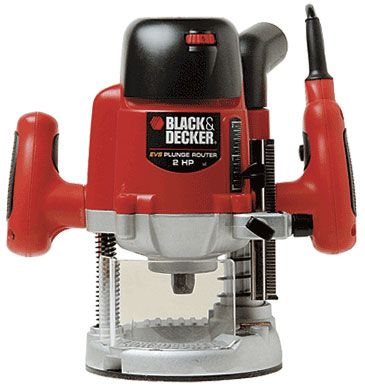 Midsize plunge routers, those in the 2-hp class, have enough muscle to tackle most tasks, yet they're relatively easy to handle. Unlike a fixed-base router, a plunge router lets you lower the spinning bit straight down into a workpiece. That makes it a good choice for those who cut a lot of stopped grooves, dadoes, and mortises. So with that in mind, I gathered all eight of the midsize plunge routers on the market and gave each a thorough going-over. 
I checked to see how fussy it was to turn the machine on and off, to change router bits, and to set the plunge depth. I looked at how much finger contortion it took to set the switch locks and the plunge-lock mechanisms. I also wanted to see how well the multiple-stop systems worked. I checked the handles for comfort, then measured each router for noise, vibration, and collet runout. And after all of that, I tested each router by running it through a sheet of plywood.
The Black & Decker machine features comfortable handles, a lock-on switch that's effortless, and a bargain-basement price. But it accepts only 1/4-in.-shank bits and has no micro-adjust or multiple-stop systems. Consider it if you run a router only occasionally.