The Scraper Can Replace a Stack of Sandpaper
A modest tool earns its keep in many ways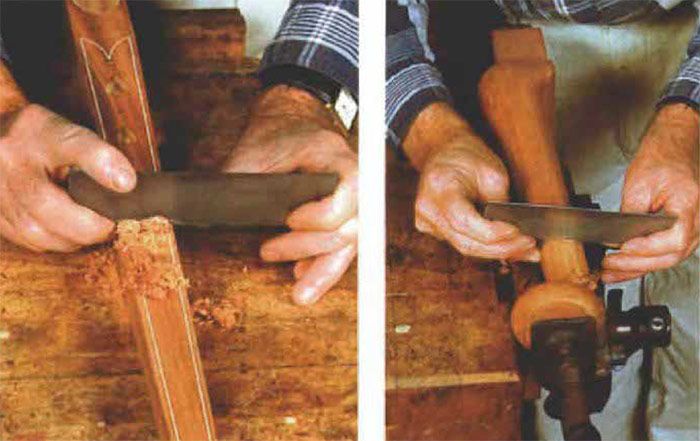 Tired of sanding? Fed up with the hours of drudgery, the clouds of dust and the high costs? There is one simple tool that can get rid of rasp, saw, gouge and milling marks, shearing away feathery layers at each stroke and leaving a smooth surface.
The principle behind the card scraper is simple: Take a piece of flat steel about the size of an index card. Polish an edge and rub it with a metal bar to create a sharp burr, or hook. Then flex the scraper slightly with your thumbs and push it across the workpiece at an angle that allows the burr to cut the wood.
Unfortunately, many woodworkers balk at the scraper, either giving up after one stab at sharpening and using it or not even trying at all.
But they are missing out on a dirt-cheap tool that can take the place of coarse and medium grades of sandpaper and can be cut or ground into an infinite variety of custom shapes to smooth inlay, moldings, cove cuts and most other curved and flat surfaces. Also, where sandpaper tends to round over nearby details, scrapers cut only where you want them to.
Finally, the card scraper's width is great enough to overlap marks or undulations created by a handplane or cabinet scraper, making it the logical next step in surface preparation. In fact, the card (or hand) scraper is often mistakenly called a cabinet scraper, but the latter is a spokeshave-like tool.
Sharpening is not difficult
Sharpening, or burnishing, a scraper is actually a simple process. It takes a little trial and error to create a usable burr, but you have to learn it only once, and there are a few basic keys to success. Without a squarely honed edge to start with, for example, you won't get a razor-sharp burr later.
Whether your scraper stock is square or curved, large or small, the sharpening technique is the same. The first step is done on any previously sharpened scraper but should be unnecessary for a new one. With the scraper lying flat on the bench, the burnisher is forcefully dragged back and forth to flatten the previously turned burr.
The burnisher is made of hardened steel and ideally should be free from nicks and polished to a mirror finish. Burnishers come in a few shapes and sizes. I prefer a cylindrical shape with a conical point, but I believe it's no longer available. These days I suggest the triangular style that tapers to a point.
---
From Fine Woodworking #147
To view the entire article, please click the View PDF button below:
View PDF