A Survey of Router Tables
The best tables simplify the job of mounting a router and come with accurate, solidly made fences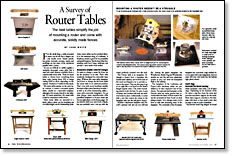 Synopsis: Fine Woodworking's John White evaluates 15 router tables for their features, tabletop size, stability, prices, mounting ease, fence quality, type of baseplate, and flatness. In his findings, White notes that models with baseplates simplify router-bit changes, and those with insert rings decrease the throat opening. He also finds that some models are affected by out-of-flat tabletops, poor stability, and fences that weren't perfectly flat and square. As with many tools, White suggests choosing a router table based on the type of work you do. He lists his favorite, and a large grid compares the tables side by side.
For the small shop, a table-mounted router can do all that a shaper can and maybe more. Raised panels, box joints, dovetails, mortises, tenons and moldings are but some of the operations possible with a router.
It's not too difficult to cobble together a workable shopmade router table. But it may lack some features available from a commercially made table. There are many tables to choose from, everything from basic units costing about $50 to setups costing $500 or more, depending on the options. I looked at 15 tables for this article. All router tables operate on the same basic concept. A router is mounted upside down, usually on a removable baseplate, although a few mount directly to the tabletop. For many operations, the router table is used in conjunction with a fence.
Most router tables are mounted to a stand, either a short one for benchtop use or a table-height one for freestanding units. Some router tables can be attached directly to the extension wing of a tablesaw. A benchtop model is good for its portability and small footprint. But the best of the freestanding units have larger tabletops and provide a more stable work surface.
Baseplates simplify router-bit changes
It's easier to change a router bit if you can lay the machine on its side. That's why somebody developed the removable baseplate. Without this removable baseplate, you'd have to change the bit from under the router table in an awkward position. That's true with many benchtop models. But some of the newer benchtop models— as well as all of the freestanding tables— come with removable baseplates. For an extra charge, many manufacturers offer predrilled baseplates to fit your router. It's not hard to drill your own from a blank, but you probably won't end up with the router perfectly centered over the hole.
The Veritas table is an exception. Although it doesn't have a baseplate, the modest-sized tabletop can be lifted clear of the stand and flipped over to provide access to the router. (You can also prop it up at an angle like a car hood on the stand's hinged support arms.) The router mounting system is also the best I've seen. A pair of clamps and brackets will hold any model of router in place. Additionally, it comes with a pin that centers the router in the baseplate hole.
From Fine Woodworking #138
For the full article, download the PDF below:
View PDF