Apollo Sprayers International - Turbine HVLP Sprayer 700
The Model 700 is designed for spraying thin solvent-based materials such as enamels, stains, lacquers, and some polyurethanes.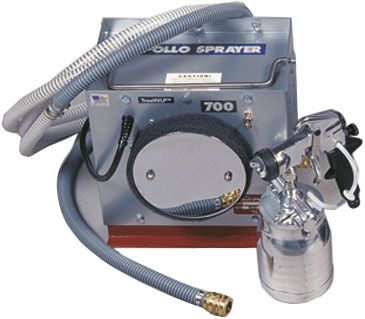 Pros: The 700 is the most comfortable sprayer to use. It has an extremely flexible air hose, filters are easy to replace, and the plastic handle stays cool during use.
Cons: On the downside, the 700 has no air-reducing valve to regulate atomization pressure, and it produces a spray pattern that's not elliptical (left). Also, I found the manual to be poorly written.