Wagner - Turbine HVLP Sprayer 2600
Wagner's nonbleeder spray gun for paints and finishes features a flexible rubber air hose, and is easy to maneuver.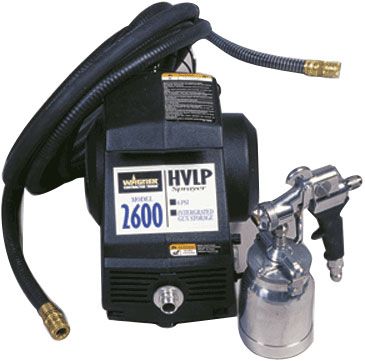 Pros: The 2600 is a well-balanced sprayer with an industrial-quality, nonbleeder gun. The sprayer has a flexible rubber air hose, which makes the unit easy to maneuver. The system has an air-reducing valve to regulate atomization pressure and achieves very fine atomization. The 2600 had the least amount of overspray in the test (left). For convenience, the spray gun is stored in the turbine housing.
Con: The only problem with the 2600 is that it has small turbine filters.
For a full review, read Chris A. Minick's article in the August 1999 issue of Fine Woodworking magzine, available on the Fine Woodworking Network.