A Game Plan for Big Cabinet Jobs
Good shop drawings, the right materials and accurate machine setups are the keys to success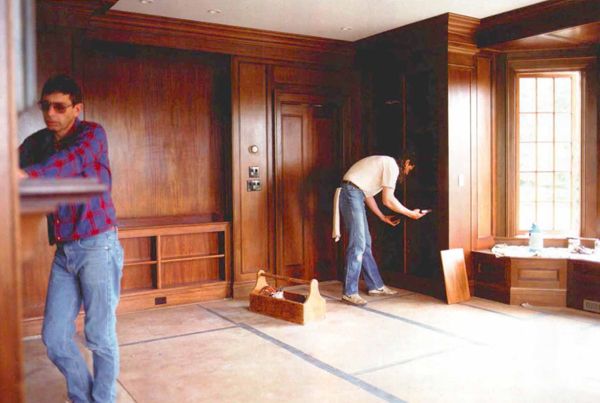 Synopsis: John W. West explains starts big jobs (like putting in a library) by making painstaking measurements on story poles, choosing materials, and tuning up his equipment. He details the options for materials and how they vary and what he does to tune up tools. He offers tips such as building for the outside dimension of the box. All the work you do ahead of time, he says, will pay off during assembly, and that includes prefinishing the pieces. Side information addresses using a cabinet-saw jig to square up sheet goods.
Over the years, I've built close to 20 libraries for residential clients. To me, these rooms of cabinetwork and millwork are interesting for their variety. A library—more than any other room in a house—brings together a lot of different components. Case work, shelving, drawers and pull-outs, frame-and-panel doors, glass doors, paneling, and unique moldings all make up the finished job. Case work may vary from simple bookcases to more elaborate storage units for television and audio equipment. But in the end, they're all just plywood boxes dressed up to look good.
For a large and complicated job like this one (see the photo above), I always measure the room twice, on two separate days, to reduce the chance of making a mistake in laying out and sizing the work. By checking the two sets of measurements against one another, any discrepancy will show up readily and may have to be resolved with a third visit to the job site. I used story poles (scraps of lumber on which all the job-site conditions are marked) for many years because they're almost foolproof. But lately, I've developed another system that works more efficiently for me.
To lay out and design a room like this one, I start with a set of drawings from the architect that have been approved by the clients. The drawings show scaled elevations, or front views, of how they want the room to look. To figure out exactly how cabinets and paneling and moldings will all fit together, I use those drawings to make my own in a larger scale based on the measurements taken at the site. From my first set of drawings, I make another set of free-hand shop sketches where I figure out the joinery details and the actual cut size in overall dimensions of every cabinet, door, wall panel and piece of molding that will make up the job. From those shop sketches, I make cut lists that show every piece of plywood or lumber by finished size—thickness, width and length—and the number of pieces of each. There are still many times when I will draw out some details full-sized, especially when I deal with angles or curves or I want to be sure something is going to look right.
From Fine Woodworking #127
For the full article, download the PDF below:
View PDF