Building a Veneered Armoire
Simple joinery helps speed construction; veneered curves give it a classic style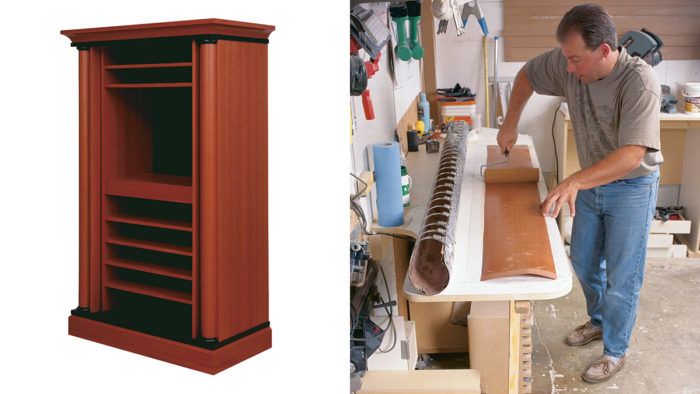 Synopsis: Gregg Domek built an armoire meant for audio-visual equipment with simple, straightforward biscuited or screwed joinery. The dimensions of the piece aren't set in stone; you can easily modify the design. Domek's armoires don't use hardwood, and plumbing pipe forms the curved elements. He advises choosing the veneer carefully before laying it up, and he shares tips on the curves. He uses thermal-bond glue for the edges. Detailed project plans and step-by-step photos illustrate how the process works.
I've been commissioned to build more than a dozen armoires in the past several years, and not one was made to serve the purpose for which this furniture style was designed—holding clothes. Instead, I've built them to house televisions, audio equipment and computers. I've also made armoires as dry bars and as drop-down writing desks. Clients like these armoires because they hide a lot of clutter, and I can scale the design to fit any room. I made the one shown in the photo on the facing page to store audio/visual equipment in a master bedroom. It has plenty of space for a large television and a number of electronic components.
The joinery for this project is simple and straightforward, glued and biscuited or screwed in most cases. Building cabinets brings home the bacon for my family, so I'm interested in making strong joints quickly. The dimensions for this armoire are not set in stone. You can modify this design and still end up with a handsome and useful piece of furniture.
The construction of this armoire, as with most of my work, is unusual in that I don't use solid hardwood. Also, I use plastic plumbing pipe as the core material for curved elements. The entire cabinet, including the columns and the crown molding, is made from the same flitch of makoré veneer (also called African cherry). Last year, I used about 15,000 sq. ft. of veneer and less than 400 bd. ft. of lumber. When I moved to coastal Washington state from Arizona several years ago, I learned very quickly what a difference in climate can mean. Here, veneered pieces are a lot more stable than those made from solid lumber. I also prefer the visual effects I can get with veneer—furniture perfectly uniform in grain and color.
Choose the veneer carefully before laying it up
Veneering case work is pretty straightforward, once the design details have been worked out. I break down the design into separate parts and glue up all the veneer before assembly. I choose all the pieces of veneer for the sides of the case, the doors and the back from the same part of the flitch, and then I mark all the seams for a book-matched pattern.
From Fine Woodworking #121
For the full article, download the PDF below:
View PDF