Make an End-Boring Jig
Adjustable drill-press setup simplifies difficult drilling jobs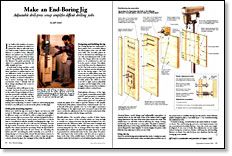 Synopsis: Jeff Greef builds a lot of custom doors and windows using dowels, so he designed an end-boring jig that mounts to his drill press. Figuring out how you'll mount it is the first challenge, and he explains how to troubleshoot that. Then he discusses how he built his jig; a detailed drawing helps clarify the assembly. He talks about how can make up to 1/32-in. corrections using the jig's adjustment bolts. He hasn't tossed his doweling fixtures yet, but the jig helps him handle most dowel drilling chores.
I've built a fair number of custom doors and windows in which I've joined the stiles to rails with dowels. Until recently, I relied on doweling fixtures to position holes. Although fixtures are quick to use, I found them lacking accuracy, particularly for large dowels. The problem is not in locating the fixture's bit guide precisely, but rather it is guaranteeing that the bit drills straight and true.
A horizontal boring machine could solve the problem. But while one of these machines is neither hard to use nor difficult to build, it would eat up precious space in my already cramped shop. Besides, it seemed redundant to buy a motor, bearings and a thrust mechanism when I already had all those things standing in the corner in my drill press.
Boring holes with a drill press is very accurate, but how do you bore holes in the ends of long workpieces? If you turn the press table vertically, clamp a fence to it and secure the work, the setup is still quite limited in terms of making fine adjustments. So with adjusting (and readjusting) in mind, I made an end-boring jig that mounts to my drill press, as shown in the photo on this page.
Drill-press mounting logistics Before you build the jig, you need to figure out how you will mount it. Although each type of drill press may require a slightly different setup, you should be able to adapt the principles I used to mount a jig to your press. First, my jig is designed for floormodel presses. If you have a bench press, you'll have to bolt its base to a workbench with the spindle overhanging the edge. You can extend the jig to the floor as I did (see the drawing). Second, the jig is made for presses with at least 14 in. of swing to get the depth to the column needed for mounting. Third, the jig is built for presses with tables that both tilt and swivel. By swiveling the table's arm 90° and tilting the table vertically, you can bolt or clamp the jig to it. If your table doesn't tilt and swivel, remove it. Then make a wooden outrigger with a yoke to clasp the press's column. Mount the jig to the outrigger in line with the spindle.
From Fine Woodworking #102
View PDF