Norm Abram: Carpenter Turned Furnituremaker
Profiling the host of "The New Yankee Workshop"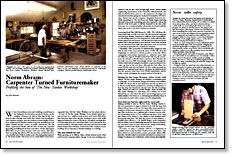 Synopsis: Jim Boesel looks at what goes into and comes out of television's New Yankee Workshop. In this interview, Norm Abram and show producer Russell Morash describe how they developed the popular show and what their long-term plans include. The article details Abram's background, the history of the show, tool envy, and more. There's behind-the-scenes information on what it takes to produce the show.
When Norm Abram took a job building a small barn in the backyard of a television producer's house on the outskirts of Boston, he had no idea that his life was about to take a dramatic turn. At the time, Abram was a young general contractor trying to steer his business toward quality renovations. Impressed by Abram's chintzy scrap pile and efficient work habits, Russell Morash, creator of public television's This Old House, approached Abram with the idea of Norm the carpenter appearing and talking about home restoration. Abram, figuring he didn't have much to lose because work was scarce, said okay. Since accepting that offer in 1979, his career has continued to blossom. And the barn? Well, it resides next to the lush garden featured in The Victory Garden. The barn's not so small either—it has been expanded into The New Yankee Workshop.
As host of The New Yankee Workshop, Norm Abram builds projects in front of million loyal viewers each week. With those fans and more than a few skeptics wanting to know what really happens behind the scenes of his show, I thought it was high time to look at what goes into, and what comes out of, television's best loved woodshop. Through a visit to the shop and interviews with Abram and producer Morash, I learned how this Yankee's woodworking—from carpentry to furnituremaking—is evolving.
The man behind the saw
While growing up in Milford, Mass., Abram learned much of his craft from his carpenter father. By age 15, he was working construction with his dad. Once through high school, Abram studied engineering and business at the University of Massachusetts and then worked for three years as a site supervisor of a large construction firm before going into business for himself in 1976. For a time, Abram kept up his company, Integrated Structures Inc., while appearing on This Old House and finally began attracting the kind of up-scale remodeling jobs he'd hoped for. But as the success of the show grew, so did the demands on his time. After four years as a contractor/builder, Abram felt out of touch with the day-to-day work, so he let his business go dormant.
From Fine Woodworking #99
For the full article, download the PDF below:
View PDF