Antiqued Pine Furniture
Distressing won't hide sloppy work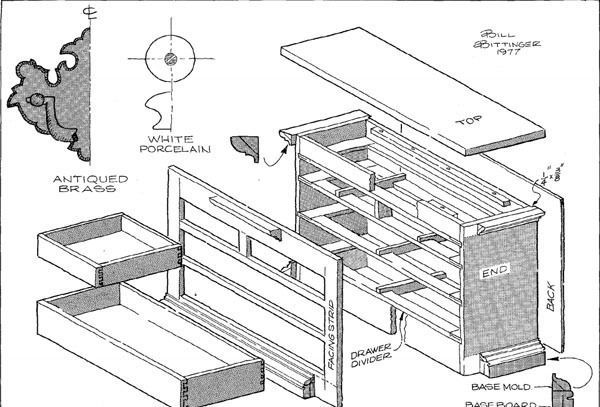 Synopsis: B.D. Bittinger says antiqued pine furniture designs are based more on feeling than fact. If you take on a project that you intend to distress or age, it is even more important that the workmanship be of the highest quality. Antiquing and distressing will not cover or hide sloppy or careless work. Bittinger explains which pine is best to use and offers tips for working it for best results. He describes how to tackle projects including carcases, drawers, doors, and moldings. Distressing is a matter of experimentation, and you'll learn how to finish a piece to complete the aged look.
Antiqued pine furniture has become increasingly popular in recent years. This style of furniture is characterized by thick (1-in. to 1-1/2-inch) table and case tops, and correspondingly sturdy carcase construction. It is constructed from knotty white pine. The antiqued and distressed finish is medium dark brown, with lighter brown highlights.
The line of commercial antiqued pine furniture marketed under the Ethan Allen trademark is a good example of this furniture style. I view the style as a romanticized version of the pine furniture built by skilled joiners in rural America during the last half of the 18th century—not rustic or common, but well-made country pine furniture.
Antiqued pine furniture designs for use in present-day homes are necessarily adaptations, not authentic reproductions. After all, rural colonial families did not have king-size beds with "sleep sets" or stereo and TV cabinets. Freestanding desks were rare and all-drawer chests with large, plate-glass mirrors were unknown. They had as much use for coffee tables and bookcases as we have for dough boxes and flax wheels. Antiqued pine furniture designs are based more on feeling than on fact.
Eastern white pine was used by early cabinetmakers and knotty eastern white pine can still be found. Western white pine serves as well and is available at most lumberyards. There are several varieties of western pine, ranging in color from almost white to tan to pink. Kiln-dried knotty white pine is generally available as #3 common 1×12 shelving in lengths of up to 16 ft. Sugar pine is my choice when I can get it. It is usually tan in color with rust grain lines. Some boards also have a distinctive brown fleck marking. The knots are generally small and red-brown in color.
Most furniture parts are less than 4 ft. long and 5 in. wide. In selecting material, I look at a 1×12 shelving board in terms of the number of good pieces it may contain, not its overall appearance. Some white pine boards are full of sap, heavy and sticky, and are useless for making furniture. Thick (4/4, 6/4, 8/4) knotty white pine is not available at most lumberyards so I usually order from a dealer such as Educational Lumber Co. in Asheville, N.C.
From Fine Woodworking #7
For the full article, download the PDF below:
View PDF