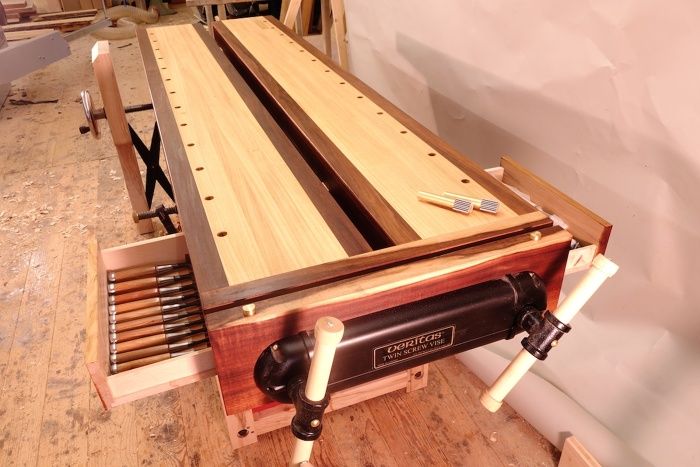 Finally I got around to building a proper workbench. I used reclaimed maple and mansonia timbers for the structure and the top. The sides are completed with thick plywood and are coloured.
As vises I chose a Veritas Twin Screw and a Benchcrafted Leg Vise. It is a great set-up that allows for every clamping possibility and has made things considerably easier for me. I built two small and shallow drawers underneath the acme-threads of the Twin Screw to house my chisels and other smaller items. Very convenient. The saw blades are out of the way as well, as are most of my power tools.
Overall size 210x65x84cm with a solid 7,5cm thick top
The top resembles a split-top Roubo workbench, ideal for clamping. Chisels have found a home too.
Saw blades are underneath, as well as a small drawer
The criss-cross mechanism on the Leg Vise
Plenty of storage space in two big drawers and behind the two doors plus a very convenient sliding deadman