Gallery
Replica 1880's Rocking Cradle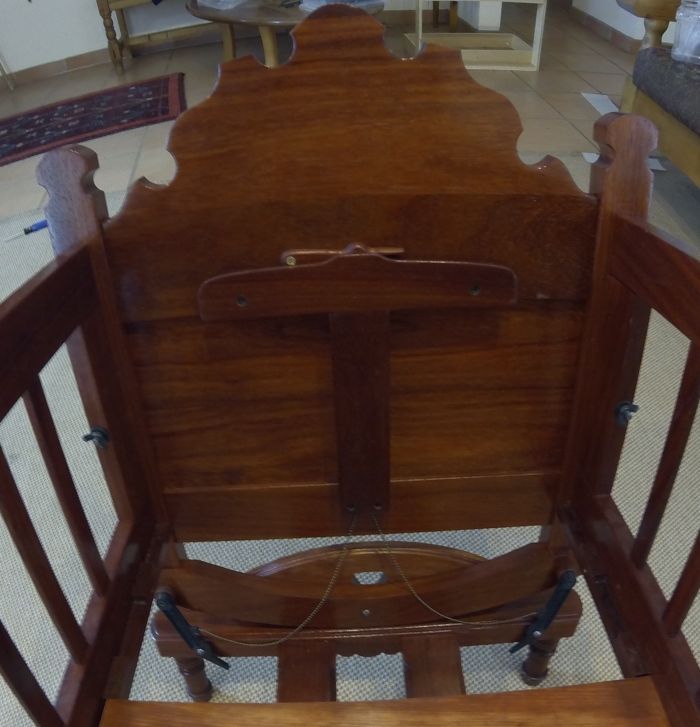 Hi everyone,
I used a 1880's cradle, made by a friend of my wife's family, as the template for this cradle. The rocking cradle sits on a base and has a unique latching mechanism to stop the rocking motion. The original 1880's latch was metal. I had my son print a new latch on his 3D printer. The cradle is made from Padauk. I had to hand carve all the medalions from Padauk. I hand rubbed the first shellac coat and then used a stay gun for the additional coats.   
I purchased 19 bd ft of Padauk from MacBeath Lumber in San Francisco.  I spent a lot of time developing a cut plan and ended up with almost no scrap. And, for all the cutting, resawing, planing and surfacing, I didn't make a single cutting error. It took me about 60 hrs of shop time to make this.  
An interesting thing about the original latches was that there was a patent date of "Oct 26, 76" stamped on the latches. I was able to find the original patent documents. The patent holder was from Cincinnati, the same place the cradle was made, only a couple of years after the patent was issued. I wonder if the woodworker and patent holder were the same person!  
The cradle rocks on a base and has two latches that can stop the rocking motion.  The original latchs were medal. My son printed these new ones using a 3D printer. You can see them at the bottom. The lever on ther top pulls a ball chain that retracks the latches.  
The medalions were hand carved and the curved onlay modling at the top was made on a router table. I made the scroll work on the top using a large whole bit on a drill press and a band saw.  The rocker at the bottom can also be seen.