Gallery
grampa's tool box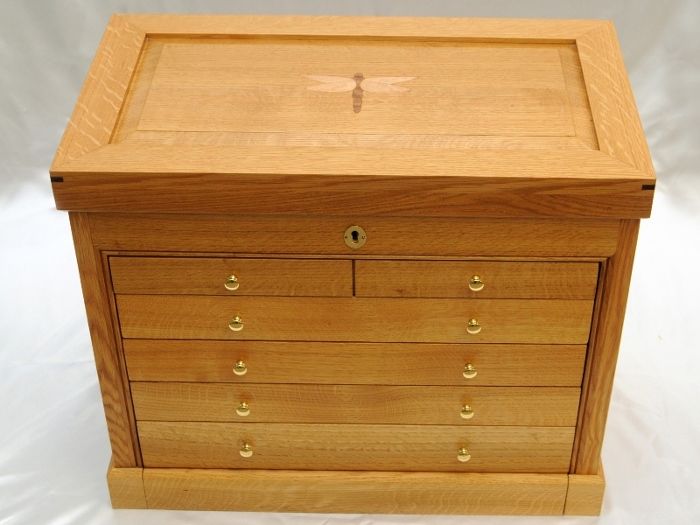 My Grandfather, Francis Townsend was an inspiration to me as I grew up. He was always working on one of his inventions in his shop when I came to visit. He would love to explain when I asked and appreciated my interest in his work. We always had a good time discussing our projects together.
To show my appreciation, I made this tool box for him to put his tools in when he retired, thinking someday it would be passed on to one of our young relatives.
Most of you recognize the simplicity of this frame and panel (door) cabinet. This was the focus from the beginning. Keep it simple, not too flashy.
If you can imagine my Grampa, he was a practical man with great ideas and an inventor of many things including one of the first coin change machines. His last project was an Argon gas vacuum pump machine for neon signs.
Growing up thru the depression, he didn't have much and he worked with what tools he had, his hands and a great imagination.
Even though he became successful, he still maintained his conservative lifestyle and had no need for vanity.
There is a paragraph written about the tool box including a picture of the 2 of us inside on the back panel, behind the drawers. I took my time so it took about 200 hrs., over a year to make. I wanted to add inlaid brass legs and antennas on the dragon fly but I thought that might have been too extravagant to him.
I remember when my wife and I drove down from Chicago to Oklahoma City in 2004 to give the tool box to him, I was afraid he would think I made too much of a fuss or that it was too nice to use. There was no reason to be expecting a gift so he was surprised.
I got a big shoulder hug and a "Nice job mark, you did good. Thank you". From my Grampa, it doesn't get any better than that.
When my Grandfather passed away a few years ago, we drove back down to Oklahoma again, this time to say goodbye at a funeral. My aunt Debbie, who was helping take care of him, came up to me and told me that he said he couldn't think of anybody else he wanted the tool box and his tools to go to but me.
I guess I was a bit of a "dreamer?" when I started this project so many years ago, never thinking that one day he would die and this may happen. Grampa was going to live forever.
So, I brought it home and set it in my office. As I re-organised all the tools in the drawers, I tried to imagine him using them. I have quite a few antique tools myself so I have decided to fill it even more with some of my own collection.
My wife and I have thought about it for awhile now and we think we know what to do with it. Lets just say he's 5 now, and wanted a toy skilsaw and cordless drill for Christmas.
But, I still have at least another 20 yrs. worth of production left in me so he will just have to wait until then. Grampa worked in his shop until the day he died at 90 yrs. old. I hope I can do the same.
I sure miss him.