"Home is where the Hearth is"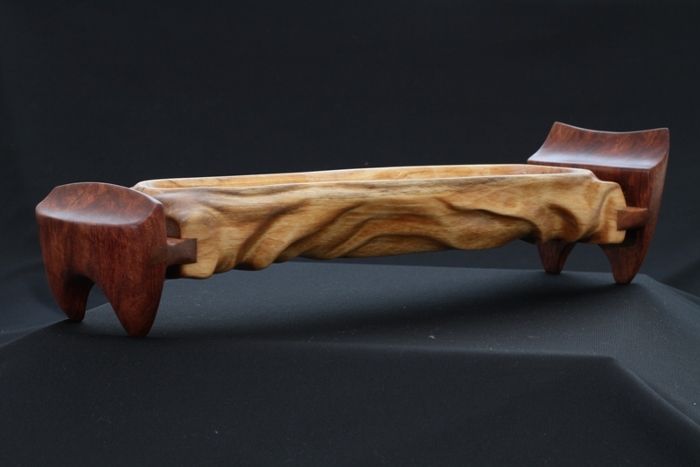 After receiving April's copy of FWW I was greatly inspired by the "knickknacks" done by Hank Gilpin. They were absolutely beautiful. It was also then that I was made aware of the Scraptacular Challenge. For a long time I have wanted to make a tray to hold the one thing that makes it possible for me to create my pieces…my house keys. Without those I wouldn't have a shop. So you will see one picture of a birch log resting on my scrap bin. That picture was taken on February 18th so it didn't leave me much time to finish this piece. The birch log was in the fireplace of my house when I purchased it 8 years ago. I put it aside in my basement knowing at some point in time I wanted to use it in a piece. So there it sat for eight years until this challenge came along.
The main body of "Home is where the Hearth is" was carved from a 2" thick slab of the birch log. After cutting it into a slab I found the birch was actually slightly spalted and there was beautiful figure where a branch had grown…which when cutting to length I positioned so it would end up in the deep carving of the tray. I used a combination of a Foredom, hand chisels and cabinet scrapers to give it the look you see. The legs where made from figured Bubinga scraps left over from making the legs of "My Nightmares and Dreams". The legs are held onto the box by a scrap piece of quartersawn Sycamore left over from making the body of "Box of Chocolates". I used a sliding dovetail joint to attach the Sycamore pieces to the Bubinga legs. The Sycamore is doweled into the birch.
"Home is where the Hearth is" was finished with countless soakings (that birch was THIRSTY) of Danish Oil. The final finish was two buffings with BriWax. It is approximately 16" x 4" x 4".
I would also like to thank my friend Joel for taking pictures for me at the last second! Enjoy and keep making sawdust!
Top View. You can see where the branch was in this view.
The raw material on February 18th! Let the fun begin!