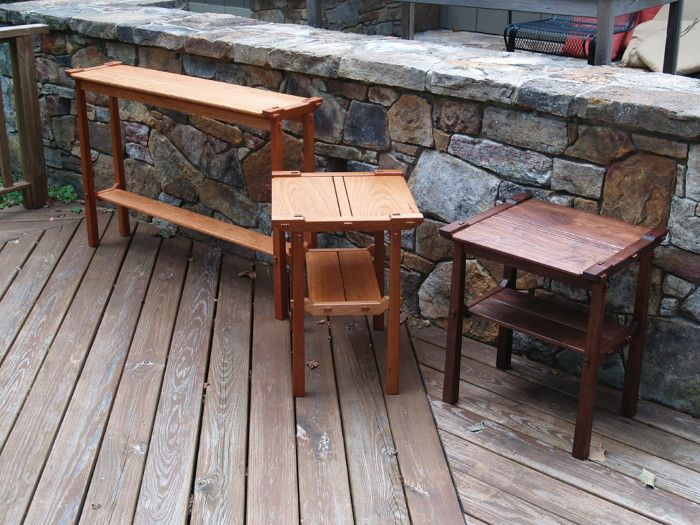 These tables are based on a design I made in around 1980-1984 and wanted to revisit. At the time, I was experimenting with mortise and tenon joints and had a particular interest in expanding my design foundation beyond American and European furniture, so Japanese architecture and my interest in all things foreign were brought into the design matrix. Torii refers to the Torii shape, the gateway to the entry of a Shinto shrine.
At the time, I was concerned that the technical aspects of the objects in our lives are hidden from view and that it is nice to see how things fit, how things work, how things go together, and those things can be elements in our observation of beauty. Now, manufacturers have gotten even worse. They hide the motors in cars so you can't see them, even when you open the hood. Mercedes is now making cars with no dipsticks so you can feel completely detached from physical, bodily responsibility. You may not even be trusted to participate in the care for the vehicle.
But, I think having a body is a cool thing. Caring for things and having the capacity to fix things, starts with having an understanding of how things work. So revisiting this design is intended to make a statement of sorts. It is great to see how things work, as the physical structure of an object can express both beauty and integrity. And much of the world is headed in the opposite direction.
The tables are made from a mix of 4/4 and 8/4 material. I am careful in this design that the boards are never glued up to attain necessary width, as integrity in the use of the materials is one of the design constraints I consider in this project.
Torii tables in walnut, cherry and hall table variation
Cherry end table gets its name from Torii shape.
Exposed tenons with contrasting wedges to expand tenons and lock them in place