How-To
How to Cut Sliding Dovetail Joints
Use a router table for fast and accurate dovetail drawer joinery.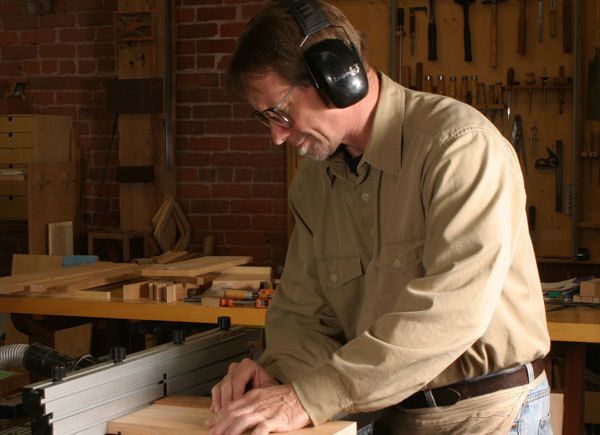 A router is one of my shop's most versatile and reliable tools. Mounted to a table, there are a great many things that a router can help you accomplish. It can help you whip together a drawer joint using sliding dovetails. They're easy to make using a straight bit and a dovetail bit. The sliding dovetail joint is typically used for shelf support or drawer construction.
If the sliding dovetail is at or near a corner, such as on a drawer, the router table handles both parts perfectly. (Excerpt from FWW #190 article Router-Table Basics).
Start your sliding dovetail with a straight bit

For a 1/2-in.-wide sliding dovetail, first remove some waste from the socket with a 1/4-in. straight bit. Set up the fence so that the 1/4-in. bit is centered exactly in the dado, and use a backer board if it is a through cut.
Then mount the dovetail bit to the full depth of cut and make that pass. It will be centered where you need it. Keep the board flat as it goes over the bit.
The matching cut is made with the board held vertically against the fence, without changing the bit height.
Move the fence to capture most of the bit, and then adjust the fence to take light cuts from both sides until the boards just fit together by hand. The joint tends to jam, so tap the pieces apart carefully with a hammer.
Variation: A rabbeted dovetail
Another quick joint for drawers is the rabbeted dovetail. This carcase joint is also easy to make at the router table using a dovetail bit.
Use the bit to cut two mating end-grain rabbets to form a corner. The joint is an attractive way to attach a light-duty drawer front, but it has little mechanical strength. I add dowel pins.
To make the first cut, hold the board flat to the table and put a backer block behind it to prevent tearout.
Again, the matching cut is made without adjusting the bit. The bit is captured in the fence so that only a portion peeks out. Holding the workpiece vertically against the fence, move it across the bit.
Check the fit and adjust the fence accordingly.
Excerpt from "Router-Table Basics" from Fine Woodworking #190. Read the full article for more tips on setting up and using a router table.
Photos: Steve Scott
More from FineWoodworking.com: