Projects and Plans
Biscuits strengthen this mitered box
Biscuit joints and a clever clamping trick ensure these mitered joints stay closed forever.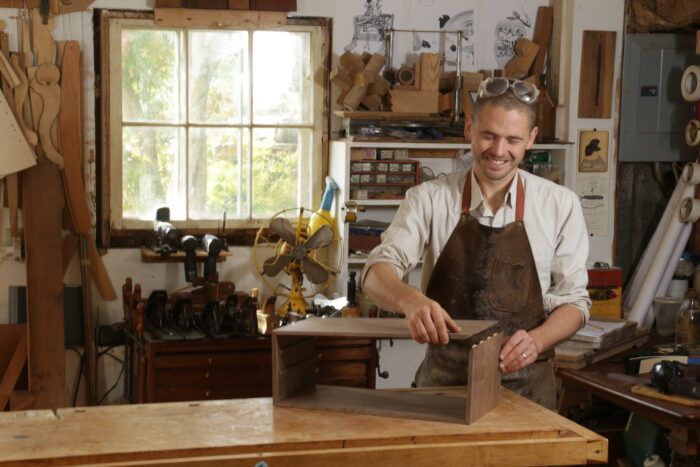 In my article "Build an heirloom box" (FWW #291), I take you through some of the more difficult aspects of building my heirloom jewelry box: veneering and banding, and sizing the drawer fronts. After all, that box's design hinges so much on the drawers, and the box construction is fairly simple. It's just some dadoes and mitered corners reinforced with biscuits.
But that simplicity doesn't mean you should overlook the task. The veneered drawer fronts with continuous grain won't be as striking if your miters are wonky and drawers slide poorly. Plus, these simple construction methods are foundational woodworking, so even if you're not building a box like my Art Deco–inspired one, getting the basics down will always pay off. There's even a little trick for making drawer runners without having to worry about cross-grain construction.
After cutting the box parts to length, angle the tablesaw blade to 45° and cut the miters. I use a miter gauge with a zero-clearance fence and stop block. While I'm at the tablesaw, I also rabbet the back for the back boards.
After cutting the stopped dadoes, square up the ends with a chisel. I first sever the side walls' end grain with a wide chisel before carefully chopping the stopped ends' long grain.
The runners are short-grain strips. As a result, you can glue them to the entire dado because their grain direction is identical to that of the sides. In other words, there is no worry of any grain contradiction as the sides expand and contract seasonally.
Size these runners so they're a pressure fit into the dadoes. Also, cut them a little short, so they don't interfere with the box's back.
I biscuit the sides, cutting four slots for #0 biscuits in each miter. Every time I use this tool, I give a big thanks to my late teacher Alex Krutsky, who showed me there's no shame in using biscuits. They simplify construction, and are plenty strong in this application.
When assembling these corners, I use plenty of glue. I don't want to make a mess with squeeze-out, but I also want to make sure the miters stay closed forever. So I add glue to both the biscuits, the biscuit slots, and the miters' end grain.
Miters can be tricky to clamp well, but I have a low-tech solution that works great. All you need are ratchet straps and thin strips of wood to distribute pressure. The biscuits help keep parts aligned.
First, tighten the straps a bit, slide the strips in place close to the ends, and tighten the straps some more. You should see the joints begin to close up.
To finish closing the joint, slide two strips toward each corner. Try to slide them together evenly to keep the clamping pressure consistent.