Tool Roundup: On the Horizon 2024
A selection of some of the best new tools on the market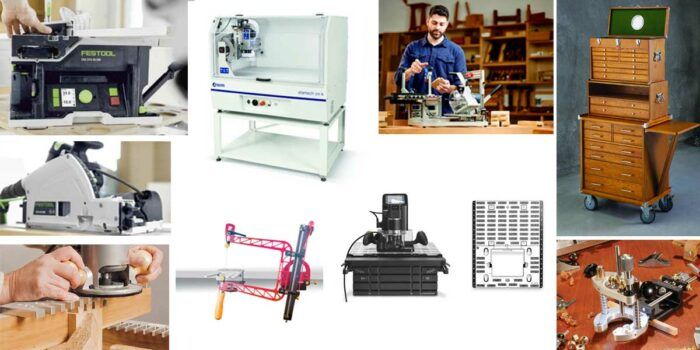 Shaper's Complete Origin System
Shaper Origin is the world's first, and only, handheld CNC router. You steer Origin while it makes small automatic adjustments to ensure clean and accurate results. The complete Origin System blends digital precision with the craft of woodworking for a range of applications, from joinery and custom template routing to hardware installation. Combine Origin with Workstation for all of your joinery needs or use it with Plate: the universal template for Origin that helps install a wide array of hardware, inlays, and bowties and includes hundreds of free digital templates from leading manufacturers in Shaper's hardware catalog.
Click here for more information.
Grizzly Oak Tool Chests
A new line of oak tool chests to store your hand tools, fine tool bits, precision measuring tools, and machine accessories. Each tool chest is expertly crafted with attention to detail that reflects fine craftsmanship and is meticulously hand rubbed, highlighting its natural beauty.
All Chests are equipped with chrome plated latches and locking bar to keep your tools safe and prevent unauthorized access. Each drawer is lined with felt to provide cushioning and protection for delicate items, preventing scratches and damage.
The drawers have strong, flush-locking rabbet joints to increase sturdiness. The drawers ride on side-hung guides to allow for the deepest drawers possible and a clean facade.
Chrome corner protectors are a sleek and stylish way to reinforce the corners. They safeguard the chest from accidental bumps, impacts, and wear, ensuring that your investment remains protected for years to come.
Click here for more information.
SCM Compact 3-axis machining center
The Startech CN K is SCM's new 3-axis machining center. Designed for artisans, schools, prototyping departments, and the home enthusiast, it is the only machine in its class equipped with an integral cabinet, complete with internal LED lighting, which ensures absolute protection for the operator and keeps the surrounding environment clean.
Click here for more information.
Hartville Hardware & Lumber
We carry the entire Festool line, including the new revolutionary table saw and plunge-cut saw. The CSC SYS 50 table saw from Festool is cordless, compact and portable. It provides power comparable to a corded table saw, making rip-cuts up to 11 in. wide and cross-cuts up to 173/4 in. The TSV 60 K plunge-cut saw from Festool is compact and portable for use on different job sites. The included scoring blade practically guarantees perfect, glue-ready, splinter-free cuts. Innovative and powerful, the new table saw and plunge-cut saw from Festool are a must-have for any woodworker's workshop.
As your woodworking headquarters, we don't just carry Festool. We carry hundreds of Robert Sorby products, such as turning tools, chucks, and sharpening systems.
Click here for more information.
Keller Dovetail System
The Keller Dovetail System gives you simple, accurate, fast, and elegant dovetail joinery. This is the original through-dovetail system, precision made in the USA since 1976. No test cuts, no wasted lumber, no fussy adjustments. Set up in 5 minutes with your hand-held router or on your router table, even if the board thicknesses are different. Cut one-off boxes in 12 minutes, or up to 40 drawers per hour in production. Cut unlimited widths, angles, compound angles, box joints, and even curved dovetails.
Click here for more information.
Knew Concepts Introduces new compact Marquetry Saw
Knew Concepts has released the newest in its line of innovative marquetry saws: a smaller, more affordable marquetry saw that makes precision sawing available to everyone.
The new compact marquetry Saw has an 8-In. throat, and the same adjustable ball bearing guide tower as the much larger Lee Marshall Edition Marquetry Saw, so it can handle double bevel inlay with ease.
The smaller size makes it perfect for those who are just starting out, or who work on smaller items, and don't need the reach of a larger marquetry saw. The compact Marquetry Saw also uses Knew Concept's dovetail mounting system, so it can be removed from the workbench and stored in seconds, reducing its shop footprint to almost nothing.
Click here for more information.
PantoRouter Woodworking Machine
The PantoRouter® is the safest, fastest, cleanest, most accurate, most repeatable and easiest joinery machine on the market! Cut your mortise and tenons, box joints, and dovetails on a true joinery machine rather than the old-fashioned way with your table saw, bandsaw, router table, and hand tools. You can set up and cut angled joints in minutes, virtually dust-free due to the incredibly effective dust collection hood. Go form setup to glue-up in under five minutes in most cases. Box joints and dovetails can be variably spaced, and custom templates can be shopmade to produce the perfect size and shape for your project. There's no other tool or jig for woodworkers available today with the straightforward simplicity and the open-source potential to create truly unique and functional joinery, patterns, and designs. Custom furniture makers become more efficient, and hobbyists can create professional-looking projects with ease. Customers rave about PantoRouter thoughtful design, engineering, and high-quality construction. Visit their website to see videos of the PantoRouter in action and learn more about how others use this unique joinery machine.
Mortise and tenon
Box joints and dovetails
Safe and easy to use
Ideal for hobby and professional woodworkers or school woodshops
"Truly a brilliant machine! Incredibly lightweight but rigid. It fits in perfectly with how i work. Simple to set up for one joint or a hundred. I generally don't recommend much-with few exceptions and this is one of them"   –Michael Fortune Studios
Click here for more information.
Micro Fence
Micro Fence began more than 30 years ago, with woodworker Richard Wedler and his father Jack, a Machinist and toolmaker. A Micrometer is built into the jigs, so extremely fine adjustments are literally at your fingertips-and accurate to 1/1000 in. Made entirely in the USA using local shops and materials, these tools are made to last a lifetime.
Micro Fence offers a complete milling system that works with most routers. There are three core elements that bring accuracy to every job-a basic edge guide for straight work, a circle jig for working in the round, and plunge bases that bring that same precision to depth-of-cut settings. Even their smallest tool, the Micro Stop, brings highly accurate repeatability to tablesaw crosscutting, miter saws, bandsaws, shaper fences, router tables, sanding machines…In fact, pretty much anywhere you need to add micro-adjustment.
Click here for more Information.