How to add a wood floor to any workshop
An easy way to install high-performance wood flooring over concrete.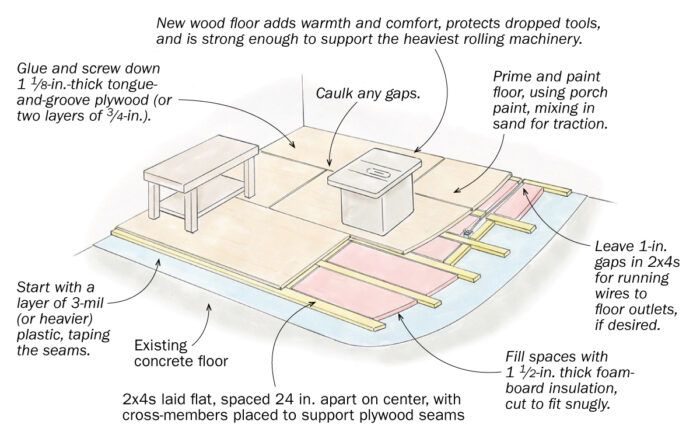 Compared to unforgiving concrete, a wood floor makes a shop much more friendly to the body. It also adds insulation and warmth, and is much less likely to damage dropped tools. Here's an easy way to install a high-performance wood floor over concrete—one that's solid enough to support heavy, rolling machinery. It will work in most shops, but you might need to trim your doors at the bottom if they open inward.
Installing this wood floor is as easy as making lasagna. Start with a layer of heavy plastic to prevent moisture from wicking up from the porous slab. Screw down treated 2x4s on their faces, placing them 2 ft. apart on center so the plywood seams will land on them correctly; place cross-members to do the same. Fill the spaces between the 2x4s with rigid foamboard insulation, and then glue and screw down thick tongue-and- groove plywood sub flooring, which will be the new shop floor.
A variety of finishes will work, but I went with two coats of tough paint, designed for porches, mixing in sand to add traction, an important safety feature.
Installing the floor offered a chance to keep power cords out from underfoot. I did this by leaving gaps in some of the 2x4s to allow wiring to pass through, and then installing outlet boxes in the plywood. My new wood floor makes the shop a much warmer and more welcoming place to be.
—MICHAEL RICCO, Kalamazoo, Mich.
Illustrations by Dan Thornton
From Fine Woodworking issue #307