Easy, effective sharpening guide for carving gouges
An eyebolt, slightly modified, easily holds a gouge in the right position for sharpening.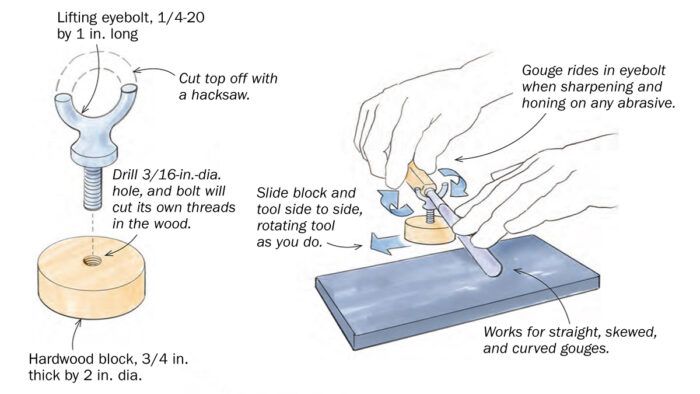 To create a great sharpening and honing guide for many of your carving gouges, whether curved, straight, or skewed, you can screw an eyebolt into a hardwood block. The eyebolt keeps the handle at a consistent angle as you rotate the tool and slide the block back and forth. To create a microbevel, you can simply unscrew the eyebolt a bit to raise its height, but I make separate guides for different sharpening and honing angles. By the way, a regular 1/4-20 eyebolt works fine, but a specialized one, called a "lifting eyebolt," works even better. It's completely closed, which allows you to cut off the top half, so you can drop the gouge into it instead of poking it through the circle and possibly nicking the tip. To make sharpening smoother and more effective, place a smooth, flat material (like MDF) under everything for the block to slide on.
—VINCE FYIE, Port Sanilac, Mich.
Illustrations by Dan Thornton
From Fine Woodworking issue #306