Review: Woodpeckers In-Dexable Square System
Review: Woodpeckers In-Dexable Square System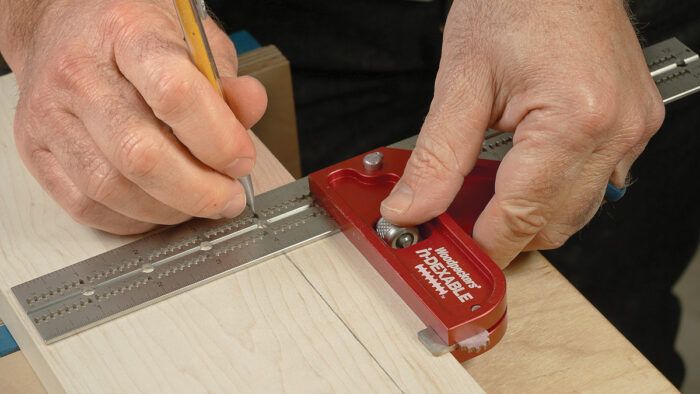 In many of its squares and rules Woodpeckers has included scribing notches that let you drop your pencil into a fixed position to scribe an accurate mark or a full line parallel to an edge. When attempting to integrate this feature into a sliding combo square, the product developers realized they would need to index the rule at regular intervals to make the scribing system work. 
That's just what they did, adding a spring-activated pin that locates the head at every inch mark. Then they created a versatile set of squares based on that system, including a standard head, a double-square head, and a protractor head with a pin system that positions the fence precisely at common angles, with a fine scale for every angle in between. 
Various rules fit into each of the heads, and you can buy the components in almost any combination.
While these squares are a bit pricier than Starrett squares, for example, their unique features add considerable value. 
Aside from the scribing system, I love the small tab that slides out at the base of the heads, keeping each square level with the edge for easier use.
—Asa Christiana is editor-at-large.
Photos: Asa Christiana