Tiny WPA: Work from the known to the unknown
Janine Wang shows her community how to woodwork through Tiny WPA, a Philadelphia non-profit.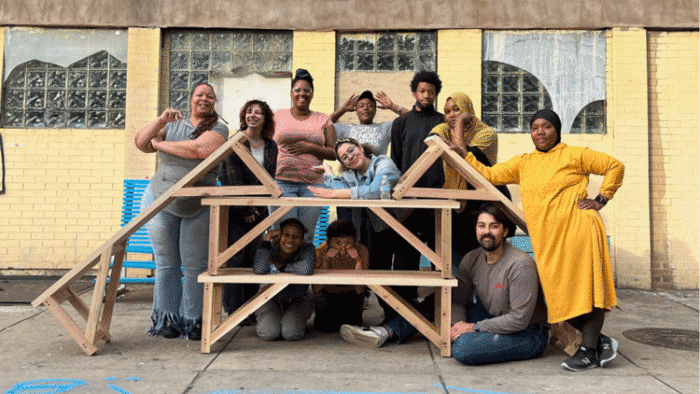 Teach me how to teach
I have never wanted to stand at the head of a classroom, pushing pencils and quizzes and reminding people to study for incoming stress tests. For someone who finds it challenging to remember facts and figures, or even to sit at a desk for one hour, that system has never worked for me. It only made me feel so defective, like I could never accomplish anything out there.
When I finally accumulated enough knowledge about woodworking, I decided to teach. The one class on "epistemology" I took in grad school did not prepare me for teaching real people. Designing a quiz about a table saw is not the most effective way to explain table saw use. There's a better way to learn woodworking.
I started teaching before I came to Tiny WPA—a few workshops at craft schools, then my now-beloved college woodturning classes—all the while wildly making things up as I went. Some things hit and some things didn't. It was terrifying.
"Work from the known to the unknown"
This is probably the most memorable of the "-isms" we share at Tiny WPA. (Our heroes are sick of hearing it! Which means we have succeeded.)
Tiny WPA took me on to the team with the promise that they would teach me how they teach. Teaching and learning is baked into the ethos of all their projects, and they have a reputation for actually building with the communities they build for. From responding to feedback and forming long-lasting friendships with the folks they build with, to actually hooking folks off the street during community builds and throwing drills in their hands for on-the-spot construction lessons, they throw open the door to the idea that yeah, you actually can change your built environment. Agency is learned.
I've learned to step away from the didactic: to question, not tell. When someone asks a question they can figure out the answer to, let them. It's actually best not to explain but to give people the tools to find out, because lessons learned through active problem solving are lessons that stick. Another surefire way to embed knowledge is to get someone to teach what they've learned to someone else. Working in groups means you learn just as much from your peers as you do from anything else.
Learning how to build things has changed my life circumstances and personality in a deep way. I'd never heard it put into these words until I came here, but yes, these "soft" building skills carry over and out of the wood shop. When starting a build, you start with what you have—be it the tools, the knowledge, the materials, or the team—and keep repeating "known to unknown" all the way to the end, and then you're done!
Tiny WPA is a non-profit design, build, and educational organization based in West Philadelphia whose programmatic activities, neighborhood revitalization efforts, design-build projects, and creative place making initiatives vary in scope, but all are small in scale, community based, needs-driven, action-oriented, and collaborative.
Its Building Hero Project provides youth and adults from diverse social and economic backgrounds with innovative, year-round training in design, collaboration, leadership, fabrication, and entrepreneurship. In addressing specific problems and transforming their community, participants gain valuable lifelong design and leadership skills to become the next generation of civic change agents.
The Building Hero Training Program is an 8-week, free program for Philadelphians looking to create change in their lives and communities through designing and building. Applications for the Fall cohort are open now until Sept. 5.
Learn more at tinywpa.org.