Welcome the 2023-2024 brand ambassadors
Erik Curtis, Larissa Huff, Darryl Jones, Owen Madden, Char Miller-King, Bill Pavlak, Kate Swann, Vic Tesolin, Sarah Watlington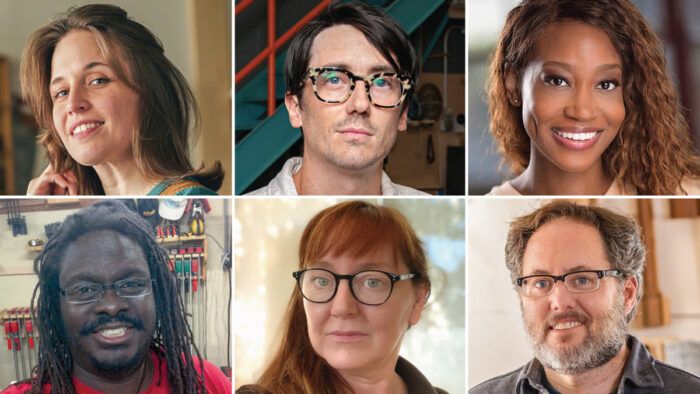 We know what's being said out there: "Woodworking is a dying art." "Craft is being lost in this world of technology and fast everything." "Woodworking is lacking in diversity." If I'm being honest, there are days when I fall into believing all of that, and I'm disheartened.
But then there are days when I am working an arm's length away from an amazing craftsperson, photographing them as they create something achingly beautiful from a piece of wood, as effortlessly as if they were taking their next step. And there are days when I open social media, and I see what is being accomplished at WOO (@aworkshopofourown) a supportive space by and for women and nonbinary craftspeople. Or I'm introduced to the incredible history of the Eliot School of Fine & Applied Arts (@eliotschoolcraft) and its contemporary mission to "inspire lifelong learning in craft and creativity for all." There also are days when I get to see the roundup of superb work coming from some of the many annual shows like The Krenov School, the San Diego Design in Wood show, and the Texas Furniture Makers Show in Kerrville, Texas. Perhaps I'll spend a day with one of our authors who have devoted their lives to teaching for the love of sharing knowledge, people like Bob Van Dyke, Steve Latta, Ellen Kaspern, David Welter, Wendy Maruyama, and so many more. These are the days when I know the craft of woodworking is clearly thriving.
Our aim at Fine Woodworking has always been to build and grow a community of passionate woodworkers. Our craft, though, is not just the craft of woodworking; it also is the craft of making a magazine and creating digital content. We are a small group of dedicated people who show up every day to make sure that the art and craft of woodworking doesn't die, to reach as wide an audience as we can, to foster a vibrant, diverse community. To that end, we enlisted help in the form of these nine Fine Woodworking Brand Ambassadors. These accomplished woodworkers will help us teach, inspire, and connect with each other. They will help us foster growth and mentor and encourage woodworkers of any level and background. In the next year you will see them taking over the Fine Woodworking Instagram account and writing blogs, among other things, bringing us their perspectives on all things woodworking and beyond.
—Anissa Kapsales
Erik Curtis
Erik is an American woodworker, sculptor, and television personality. He began his woodworking journey in earnest in 2012 when he attended the 9-month comprehensive program at the Center for Furniture Craftsmanship in Rockport, Maine. From there he apprenticed under Rob Hare and Paul Downs and was a member of The Hudson Valley Furniture Makers collective. Erik has developed a deep love for teaching, having taught at craft schools around the country and for four years as the woodworking and 5–12th grade 3D Arts teacher at Moorestown Friends School. In 2021, Erik left teaching to appear on the hit Netflix show Instant Dream Home as the renovation team's carpenter. He has since been a full-time independent woodworker combining the sculptural with the functional, attempting to blur the line between furniture and art.
Larissa Huff
Larissa is a woodworker and instructor based in Philadelphia. She's a former math teacher, so her process and designs are often inspired by patterns. Larissa builds furniture from Pennsylvania hardwoods with traditional joinery and techniques, but enjoys incorporating at least one element of special intrigue into each piece. Most recently that has been secret drawers, tambour doors, or hot-pipe-bent details. When she is not in her workshop, she's on the road teaching at shops and craft schools around the country. In recent years, she has completed a residency at Arrowmont School of Arts and Crafts and a fellowship at the Center for Furniture Craftsmanship. Her days outside of the shop are surrounded by artful woodworking as part of the team at the Wharton Esherick Museum.
Darryl Jones
Darryl has explored many facets of woodworking over the years including furniture making, boxmaking, and woodturning. He considers himself a hybrid woodworker, leveraging both hand and power tools in his work. His current special interest is turning; he enjoys the challenges and rewards of working with natural materials on the lathe. In woodturning, flexibility is key as you never know what lies under the surface. Demonstrating for clubs, events, and symposiums, Darryl discovered that he enjoys empowering others through teaching and sharing knowledge and techniques. His social media handle is Dread Knot Woodshop because he believes that we are all capable of more than we realize. Hence the tagline "Dread Knot and Make Something."
Owen Madden
Owen is a professional cabinetmaker from upstate New York who works as shop foreman at Rowan Woodwork. His past work ranges from historical preservation and replication to modern architectural millwork. He presents at KBIS (Kitchen and Bath Industry Show) on the topic of Custom Cabinetry: Trends and Techniques from Inside the Woodshop, giving designers an inside look at what the builders do. Owen's interest in woodworking sparked early, when he was exposed to his great-grandfather's work building wooden boats, some of which are still in the family. Owen enjoys the community aspect of woodworking, trading stories and techniques about the craft with mentors, peers, and beginners alike. When he's not in the shop he loves to spend time with his wife Megan and little dog Otis. His ATFTOAT (all-time favorite tool of all time) is the OLFA 25mm breakaway utility knife.
Char Miller-King
Char is a professional woodworking teacher based in Atlanta. She teaches woodshop to children and adults at Decatur Makers, a makerspace in Atlanta, and teaches across the country at schools such as Penland School of Craft. She has been a content creator for brands including Rockler, Home Depot, and Power Pro. You may have also seen her on Ask This Old House, in commercials (GMC, Carhartt) and in magazines such as Popular Woodworking and Woodworker's Journal. She speaks at conferences such as WorkbenchCon and sits on the board of directors of Decatur Makers and HatchSpace in Brattleboro, Vt.
Bill Pavlak
As the master cabinetmaker at Colonial Williamsburg's Anthony Hay Cabinet Shop, where he's worked since 2005, Bill works to gain insight into 18th-century furniture and its makers by re-creating vintage pieces or designing new ones with period-appropriate tools and techniques. Public engagement is the heart of museum work and Bill is passionate about interpreting the history of the craft daily. When he retreats to his home shop, hand-tools-only becomes hand-tools-mostly as he happily explores furniture of any period. In addition to building, carving, and studying furniture, Bill enjoys playing the double bass, collecting vinyl records, and hanging out with his wife and son.
Kate Swann
Kate is director of the Florida School of Woodwork located in Tampa. A native of England, she moved to the United States in her early 20s and began her woodworking journey while working on an old house in Portland, Ore. That led to furniture making, which led to four years in the Furniture Making program at the Oregon College of Arts and Crafts, which led to a small side business building commission work. Eventually, Kate moved to Tampa, where she opened her first workshop. Over the next 20 years commission work allowed her to evolve her design skills and grow her woodworking knowledge. Grateful for her instructors and education at OCAC and because so many people were asking for classes, Kate established the Florida School of Woodwork in 2017. Today, her mission is to be a good steward of the hard-earned knowledge she's compiled, to help broaden the reach and diversity of the craft, and to help up-and-coming woodworkers. The journey comes full circle.
Vic Tesolin
After serving 14 years in the Royal Canadian Horse Artillery, Vic began his woodworking career studying at Rosewood Studio. Then he started a small business designing and making furniture while working at Rosewood as a part-time instructor. Over the years, Vic expanded his resumé as author of The Minimalist Woodworker and Projects from the Minimalist Woodworker, as editor at Canadian Woodworking & Home Improvement magazine, and as woodworking adviser at Lee Valley Tools where he developed tools and presented at conferences and shows. Now he co-owns and runs Vic Tesolin Woodworks, a small business focused on woodworking education. When he's not teaching, you'll find Vic blogging for FineWoodworking.com, co-hosting the FWW Shop Talk Live podcast, creating social media woodworking content, and writing articles.
Sarah Watlington
Sarah is a woodworker, artist, and educator based in Los Angeles. Informed by a background in design and training from The Krenov School of Fine Woodworking in Ft. Bragg, Calif., Sarah applies traditional woodworking techniques to non-traditional forms. Her work emphasizes originality, timelessness, and subtle complexity. Sarah builds custom furniture as the project manager at Offerman Woodshop in Los Angeles and teaches woodworking courses locally and across the country.
From Fine Woodworking #304