Announcing FWW ambassadors
Seven ambassadors will help us mentor woodworkers of any skill level, and on any path in the craft.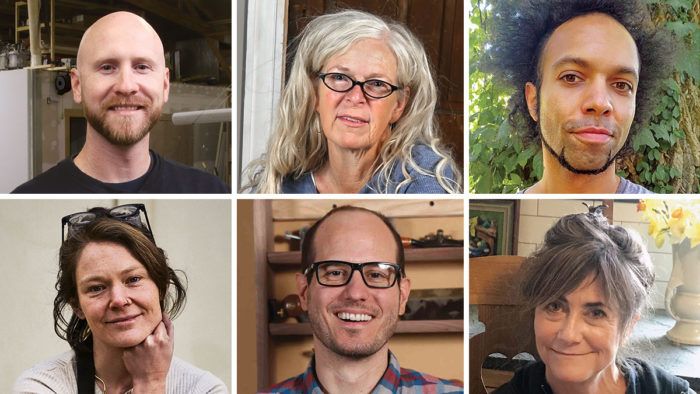 Last spring I began work on building a brand ambassador program for Fine Woodworking, and I have to say that I've put together a woodworking dream team: Michael Cullen, Mike Farrington, Megan Fitzpatrick, Aspen Golann, Nancy Hiller, Matt Monaco, and Phillip Morley. These ambassadors will become advisers to the editorial team, giving us their perspectives on content creation. All well-respected teachers and woodworkers, they will partner with us to further the craft—to help us teach, inspire, and connect with the woodworking community. They will help us mentor woodworkers of any skill level, and on any path in the craft. Here's a little bit about each of them.
—Tom McKenna, editorial director
Born in Idaho and raised in California, Michael Cullen has often been on the move. He got interested in furniture design early, studying under David Powell at Leeds Design Workshops in Easthampton, Mass., and working in Boston before setting up his workshop producing custom furniture and sculpture in Petaluma, Calif., in 1989. Now this well-known artist and craftsman is pondering a move back to New England. But no matter where he hangs his hat, Michael's work is in demand all over North America and Europe.
Instagram: @michaelcullendesign
Mike Farrington is a self-described "student for life." A professional furniture maker in Aurora, Colo., he began woodworking in high school, and helped pay for college by working for contractors, cabinet makers, and furniture makers. Later, he got a more formal woodworking education at San Diego's Palomar College, learning about cabinet making and furniture construction, among other skills. Mike opened his pro shop about 15 years ago. His popular YouTube channel has nearly 150,000 subscribers.
Instagram: @mike_farrington
Familiar to fans of woodworking books and magazines, Megan Fitzpatrick has devoted much of her professional career to advancing the craft of woodworking and helping others to learn it. She is founder and editor of Rude Mechanicals Press and a former editor of Popular Woodworking magazine. This Cincinnati resident is an avid hand-tool woodworker who teaches woodworking classes, builds furniture, and edits books at Lost Art Press, where she spends a lot of time in the shop. She's currently writing a book on Dutch tool chests.
Instagram: @1snugthejoiner
Before making furniture, Aspen Golann was a teacher, weaver, farmer, and always an artist. But it was her work as a furniture maker that first caught our attention. Aspen studied at North Bennet Street School, where she learned traditional furniture forms and pushed the design envelope. Her first case piece at NBSS made it into our Gallery, and she's been a rising star in our eyes ever since. Aspen coordinates the wood studio at The Penland School of Craft and teaches woodworking around the country.
Instagram: @aspen_golann
A professional furniture maker and cabinetmaker in Bloomington, Ind., Nancy Hiller received her early training in England, where she earned a City & Guilds of London certificate and worked for several cabinet shops before returning to the United States. She opened her business, NR Hiller Design, in 1995. Nancy is known for her custom furniture and built-ins, and has also taught woodworking at schools in the Midwest. The author of several books, Nancy writes a regular blog for FineWoodworking.com.
Instagram: @nrhiller
Professional wood turner Matt Monaco is the founder and owner of Monaco Bowls in Springfield, Mo. With a strong connection to nature and a commitment to sustainable sourcing, Matt seeks out unique wood from the Ozarks region where he lives—wood that would otherwise go to waste. Matt has been a turner for 16 years, having worked with and assisted such masters of the craft as Richard Raffan. He also teaches widely, including at Arrowmont and Craft Supplies Utah, and for national wood turning clubs of the AAW.
Instagram: @monaco_bowls
Philip Morley runs a one-man shop near Austin, Texas, where he builds one-of-a-kind furniture. Trained in carpentry and joinery under the City & Guilds of London Institute, he fell in love with furniture making while working in Rhode Island. He studied the craft with Richard Chilcott in Florida, then served as an apprentice to Texas craftsman Michael Colca. One of the founders of the Austin School of Woodworking, Philip works as an adjunct professor in woodworking at Austin Community College, and teaches around the country.
Instagram: @philipmorleyfurniture
From Fine Woodworking #285