Torture test for outdoor finishes: The end
Mother Nature: 1, outdoor finishes: 0.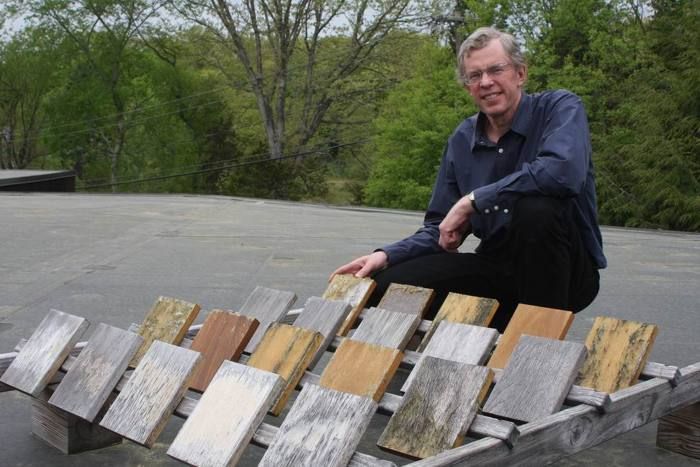 In the June 2009 issue of Fine Woodworking magazine (#205), Tom Begnal wrote an article called "Torture Test for Outdoor Finishes" where he described how he prepared sample boards from five different types of wood (mahogany, pine, white oak, ipe and cedar) and finished them with five different kinds of clear, exterior finish. A set of boards were then sent to spend a year in the damp U.S. Northwest, another set baked in New Mexico, a third suffered in the heat and humidity of Louisiana, while the fourth set sat up on the roof of Fine Woodworking's office.
The boards finished with Epifanes, a Dutch marine varnish, and those that were first treated with an epoxy sealer and then finished with Epifanes as shown by Sean Clarke in issue #178 "A Durable Exterior Finish" came through almost unscathed, a hardware store spar varnish had mixed results, while those boards finished with a water-based polyurethane and those finished with a penetrating oil finish did not survive their year-long test.
Out of curiousity, we put the Connecticut boards (excluding the boards with the penetrating finish) back on the roof and last week I went up to take a look at them. It was pretty sobering to see how poorly they had survived. Granted, they had baked on a black, asphalt roof and been angled towards the south, while this parst winter they were probably buried in snow for the better part of three months. Of the 20 boards only one, the mahogany board finished with epoxy and Epifanes, could be refinished without having to first strip the old finish. On all the others bare, gray wood was exposed, and in many cases the finish was nearly gone. What was amazing was the contrast with the side of the boards that faced downwards. Here, the two sets of boards finished with Epifanes had survived pretty well. Clearly, temperature and moisture play less of a roll in decaying a finish than the direct rays of the sun.
What did I learn? Well, if you want a film finish to survive outdoors, as soon as it begins to dull, sand the surface lightly and apply another coat. If the finish gets damaged, repair it immediately before moisture can penetrate the wood. Lastly, if the sun's UV rays can do this to tough finishes and tougher woods, think what it does to your skin. Wear sunscreen!