Workshop Tip: Refresh the zero-clearance surfaces on your crosscut sled
Replaceable inserts on the base and front fence make it easy to fix slots when they get sloppy.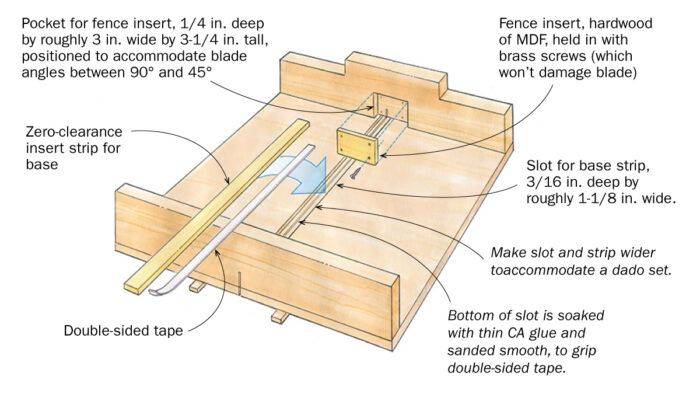 When you make the first cut with a new crosscut sled, you create zero-clearance support around the blade, preventing chipping on the bottom and back edge of the workpiece. As time goes on, those slots tend to get expanded by wider blades, bevel cuts, and so on. You can refresh the zero-clearance support on the base and front fence by attaching sacrificial layers of plywood or MDF using double-sided tape, but that reduces the effective cutting height of the blade.
I built this crosscut sled a couple years back, and it addresses this problem. The sled construction is standard; where it differs is that both the base and the front fence have replaceable inserts. You can add these features to an existing sled.
The sacrificial strip in the baseplate is held in with double-sided tape. I saturated the rabbets in the sled base (mine is MDF) with thin cyanoacrylate (CA) glue and sanded them smooth so they'd grip the tape. To add this slot to an existing sled, take it apart, cut rabbets along the inside edges of the base, and reassemble the sled carefully.
I made my insert strip wide enough to accommodate a variety of single-blade cuts. If you want yours to accommodate a full dado set, you'll need to widen it accordingly.
I make a stack of strips ahead of time, from hard maple, planing them to fit the slot with a little allowance for double-sided tape, so the strip ends up flush with the top surface.
The hardwood or MDF fence insert plate is held in a 1/4-in.- deep pocket with brass screws. To size and position the fence insert properly, you'll need to make some test cuts to see where the blade cuts at full height on your saw, both at 90° and 45°. (If you do get the positioning wrong, brass screws won't damage the blade.) Like the base strips, I make a bunch of fence plates ahead of time so they're handy when I need them.
—LEO LITTO, Austin, Texas
Illustrations by Dan Thornton
From Fine Woodworking issue #299