Woodworking news — July 26, 2022
New products from Woodpeckers, Blue Spruce Toolworks, and Harbor Freight, and a new way to sell your machines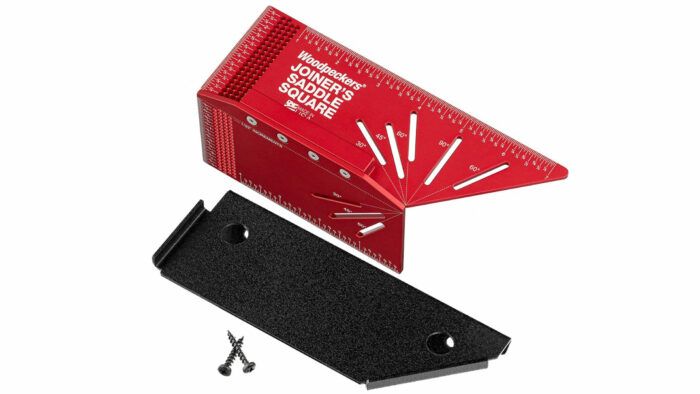 Woodpeckers announces convenient cabinetmaking companion
Strongsville, Ohio – July 19, 2022: Woodpeckers newest OneTIME Tool, the Joiner's Saddle Square, is the perfect companion for your joinery projects. Two CNC-machined aluminum plates are joined at a right angle. This "wrap-around" design gives you two valuable features. On one end you can mark both the face and edge of a board around the corner. On the other you can continue the short side of a 45° miter around the corner just as precisely. But we didn't stop there. We machined scribing guides into both sides and included 30°, 45°, 60° and 90° reference guides.
The Joiner's Saddle Square is built to order only. The deadline to order is August 8, 2022. Delivery is estimated for December 2022.
---
Stair gauges: Another new set from Woodpeckers
Strongsville, Ohio – July 26, 2022: Introducing Woodpeckers Stair Gauge Set. Stair Gauges are nothing new. Carpenters have been using them on framing squares for over a hundred years. What's new is using them on tools other than framing squares. Repetitive angle marking is as simple as clamping a stair gauge on at the desired angle. Whether you're marking miter cuts, rafters, stair stringers, or any other angled layout, your speed, accuracy and consistency just took a giant leap forward. Of course, there's also the standard use for them with a framing square … laying out the rise and run on stair stringers. But you can also make your framing square easier and faster to use by clamping a pair of Stair Gauges to one leg and butting them to the edge of your material.
Whether you've had your DelVe square or SkillSquare for years or are ordering one today, you'll get faster, more accurate results when you add a set of Stair Gauges to your order. Delivery is scheduled for November 2022.
---
New tool alert: Card scrapers and scraper burnisher
Strongsville, Ohio – July 19, 2022: Blue Spruce Card Scrapers have a thicker blade that won't flex. Getting a flat, smooth surface requires less technique, less grip strength, and less re-sharpening. Surfaces you're trying to scrape flat will be flat, not a series of scallops. The ends of the blade blend off into a gentle curve. There are no sharp corners to gouge your project…or your hands.
Blue Spruce Card Scrapers come in three shapes; 4-in. straight, 6-in. straight, and 6-in. curved. The curved scraper has a 16-in. radius to blend and smooth your sculptured projects. Each is available individually, or you can buy them as a set.
---
From Felder – Free IWF tickets and win a CNC machine
Felder Group is revving up preparations for the 2022 IWF Atlanta woodworking show. After the 2020 IWF show was cancelled 2 years ago, there's been a lot to look forward to from Felder and the
expectations of their return are high. With many woodworkers expecting to attend, the Felder Group will once again be offering FREE tickets to the show. They will be presenting their newest line of
woodworking machinery and tools such as the PCS safety system for sliding table saws and glueBox for their high-end edge bander machines. Both of which are Challengers Awards finialists.
To register for the ticket please click the link: https://www.felder-group.com/en-us/iwf-atlanta-2022
Felder Group will also be offering a chance to win one of their new Hammer CNC machines: HNC 47.82 CNC portal milling machine. Those who register for the show will automatically be entered. Those who cannot attend the show will still have a chance to win by filling out the form online: https://bit.ly/3HBwL0S
---
48-in. K-Body Parallel Clamp from Harbor Freight
---
If you have a tool release or news item you'd like considered for new, weekly roundup of woodworking news send it to [email protected].