Is your shop 5S?
Follow this Japanese organizational method to keep your workspace organized, clean, and conducive to creativity.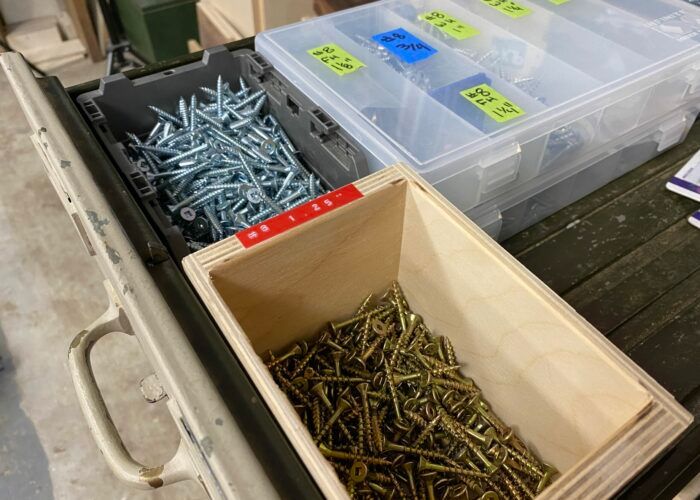 Many of us seem to work in a state of chaos in our shops. Stuff is piled here and there, and then you have to move said piles to access a tool or work surface. We spend a lot of time searching for tools and then finding them dull or in poor repair. If this sounds familiar to you, perhaps it's time to 5S your workshop.
What is 5S?
The five S's originated as five Japanese words: seiri, seiton, seisō, seiketsu, and shitsuke. Translated to English, that's sort, set in order, shine, standardize, and sustain. Essentially, this is an exercise in getting your workspace organized and streamlined to work efficiently. I feel this is a critical exercise for all woodworkers, whether professional or hobbyist. For professionals, time is money. For hobbyists, time can be a very precious thing. Either way, spending less time finding and maintaining what you need and more time woodworking is always a good thing. So how do we do it?
1.
 

Sort

Take the time to organize things like screws, hardware, etc. Perhaps set up a series of bins that are labeled to make it easy to find the ones you are looking for. This also can apply to things like drill bits or the dreaded pile of hex keys that we all have. At the same time, get rid of things you don't need in your space. This can be a tough one for woodworkers because we don't seem to enjoy parting ways with anything woodworking related.
2.
 

Set in Order

This is one of the steps that I always harp on with new students. Essentially, organize the shop so that the workflow is as smooth as possible. Arrange your tools so that you aren't traversing the shop to go from one step to another. Have work stations set up so that everything you need is there. At my drill press for example, all the bits and cutters that I use with it are stored in the cabinet below. I also have a pencil and awl nearby, and anything else I use at the drill press, including an engineer's square, a small set of clamps, stop blocks, and a drill-press vise. Having all of these tools living at the drill-press station means that I don't have to go looking for them while working there. 
3.
 

Shine

This step has to do with the cleanliness of the space and the maintenance of the tools in that space. Start with the basics of routinely vacuuming up sawdust on tools and the floor. Empty garbage cans and the dust collector regularly and pick up offcuts that have collected on work surfaces. When your workspace is tidy, it's safer and more conducive to work.
4.
 

Standardize

This is about establishing a standard schedule for the first three steps. Make time to keep things organized, cleaned, and maintained so that your tools are always ready to go. I like to return tools to their storage area sharp and free of sawdust. Every time I sharpen a plane, I take that opportunity to check it for any rust or damage and lubricate the adjusters. This means that I never have to guess if a particular tool is ready to go. I can just get to work and not have to do maintenance. 
5.
 

Sustain

This is probably the toughest of the five. Staying diligent with this is the hard part for most people, but once you get into it and see its benefits, you'll wonder how you weren't doing it from the get-go. 

Whether you are a pro or a hobbyist, time in the shop is precious. Taking time to keep things in good order means more time doing what we all love best … woodworking.