Veneer through a lens of affordability and fun
Chelsea Van Voorhis shows how simple, accessible, and most importantly, how fun working with veneer can be.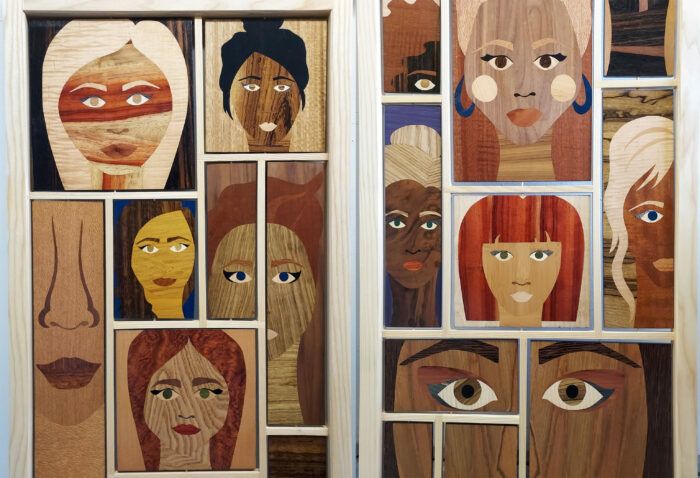 I'm Chelsea Van Voorhis. I am a woodworker, a designer, and a veneer artist. Using veneer as a medium is valuable in a lot of ways but mostly it is sublimely fun!
I started working with commercial veneer around 2017. I didn't have access to a woodshop but I wanted to continue to work with wood. Cutting veneer with a knife does not create sawdust, so I would crouch down on the floor of my living room and create marquetry panels at night after work. Those panels would then be glued up pressed to the corner of my kitchen table. Craft can be very expensive and fancy tools are great, but I'm here to tell you that they are not essential.
This blog series is on affordable and creative veneering for beginners. A lot of times fear or financial accessibility can block us from trying something new. In this series I will create a piece and discuss the tips and tricks along the way through a lens of affordability and fun. My goal is to encourage and inspire people to try veneer while acknowledging real-world obstacles. 
Let's talk about the misconceptions about veneer that influence people to decide against working with it. 
1. You have to have a lot of money to get into woodworking 
NOT TRUE. Working with veneer can be very affordable. I do not believe anyone should have to spend a ton of money on a new hobby unless they want to. Also, you don't need access to a full woodshop to work with veneer, you can do a lot of it from home. 
2. It's difficult to work with and can break easily
NOT TRUE. Veneer can break and it is fragile, however you can tape it back together. If small pieces break off or tear out it can easily be replaced. 
3. Too many things can go wrong and you only get one chance
NOT TRUE. There is a fallacy that you only get one chance at veneer and if you sand through or have tearout then the entire piece is ruined. I've sanded through veneer many times and the best part is that you can fix it. There are many times throughout a project when you can make corrections. As for tight seams, they take some practice to achieve but there are tricks that you can use to help tighten the seams or visually hide them. 
4. Marquetry imagery is too traditional for my taste
NOT TRUE. There are a lot of contemporary veneer artists working in new styles. Anything you can imagine can be created. 
5. It's cheap and furniture that's made with veneer is cheap
NOT TRUE. When comparing material cost, a veneered piece could cost less money but it could also use rare and exotic wood species that are only processed as veneer.
There are so many reasons to love veneer. It's not scary once you start working with it and it's a more affordable and accessible woodworking practice to start with because you don't need a lot of tools. The possibilities of images and patterns are infinite and it's fun! Please be sure to check out my next blog that will be about tools, materials, how wood behaves, and how to cut it.
You can check out more of Chelsea's work here.